Classic Sailboat Afternoon Harbor Tour

Description
Classic Sailboat Afternoon Harbor Tour Photos (1)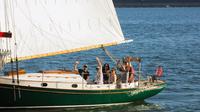 The classic sailboat harbor tour of San Diego is a great way for you to get on the water and relax. San Diego harbor is one of the most placid and beautiful harbors in the world, and you are taken out in a boat that sails on the wind as quietly as possible. You have a captain with you who serves as a tour guide, and they answer your questions as you sail.
The tour begins in the harbor where the captain takes you out to see San Diego from far away. You get a new perspective on the city, and you are given a chance to take many panoramic shots of the city. You are shown how the city grew up along the water, and you learn how much fun it is to stay on the water where it is quiet.
The tour takes you along the coast so that you might see other parts of the coastline, and you are shown how easy it is to pick new locations to go when the tour is over. The part of this that you will love the most is the fact that you see this city bustle right on the shore.
The tour has their tickets posted online, and you must have a look at the tour map so that you know how far you are going. It is easy for you to enjoy San Diego with this simple tour.
Bring your whole family on the boat or get on the boat with a tour group that will make this tour more exciting. Everyone who comes on this tour has a better experience overall.
Is this your first time sailing? Or have you logged a fair amount of sea-time? Either way, a San Diego boat tour on our 1914 replica Friendship Sloop is a one-of-a-kind experience. Liberty is a classic sailboat that is classy, roomy, comfortable, and looks like something you'd spy alongside the Black Pearl in a the Pirates of the Caribbean film. Liberty has a wooden mast, is gaffed-rigged, and has authentic decor accents.In addition, the captain only uses traditional sailing methods. We are a perfect choice for individuals or small groups.

All sailing tours, whether around the harbor or on the open ocean, include beer, white wine, soda, water and light snacks. They are 2.5 hours in length, unless otherwise noted. You will get up close and personal views of the downtown San Diego skyline, Coronado Bridge, the Maritime Museum and her flagship 'Star of India', the USS Midway, the USS Carl Vinson, wildlife such as sea lions and dolphins, and the Pt. Loma lighthouse.
Let the wind, tides, and Captain Philip's expertise guide your experience. Or heck, you can take the helm for a while if you'd like. Participation welcome and encouraged!


Pickup & Return:
Sunroad Resort Marina,Gate A-D.
Tour concludes at departure point.
Departure Times: Approximate departure time is 1pm (times change seasonally).
You will receive information about the exact time, or you may contact local supplier

Includes:
Beer, wine and soft drinks
Bottled water
Sightseeing cruise
Small-group tour

Does not include:

Additional Information:
Confirmation will be received at time of booking
Traditional sailboat with wooden mast, gaff rigging, classic decor
Restroom on board
Book Now!