Balboa Park Highlights Small-Group Walking Tour

Description
Balboa Park Highlights Small-Group Walking Tour Photos (1)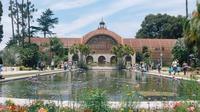 Enjoy a 2.5 hour walking tour through San Diego's breathtaking Balboa Park; home to more than 16 museums, art venues, beautiful gardens, walking trails, and other recreational activities; Balboa Park is a must-see for anyone in the San Diego area.
What You Will See
California Tower: an icon of San Diego; housing the San Diego Museum of Man. This beautiful structure built in 1915 for the Panama-California Exposition. The tower has been reopened to the public in 2015 after nearly 80 years of being closed.
Alcazar Garden: designed after the Alcazar Castle in Seville, Spain; this garden is known for its exquisite fountains and beautiful turquoise blue and green vibrant tiles.
The Old Globe: built in 1935 and modeled after Shakespeare's Old Globe in London; this theatre has been the beginning of more than twenty Broadway productions acquiring thirteen Tony Awards and other nominations.

Countless other beautiful historic attractions
Accompanied by a tour guide that knows the ins and outs of the history of Balboa Park; you will meet at Sefton Plaza at 10 a.m. to start your breathtaking adventure, once the tour has come to an end your guide will give you insight on the best places to eat in the area, and give you guidance on more of what you can see in Balboa Park. The tour will give you an overview of the park; there will still be much more to explore on your own.
Spanning 1,200 acres, Balboa Park isn't just San Diego's primary public recreational park — it's also one of the oldest in the country. On this 2.5-hour walking tour, you'll explore Balboa Park's highlights in a small group. Meet your guide at Sefton Plaza at 10am, and embark on a lively adventure: you'll enjoy a full overview of the park, and learn all about its rich history.
The tour begins at the California Tower: a tower and museum built for the 1915 Panama-California Exposition, and now a San Diego landmark. Next up, you'll visit the adjacent Alcazar Garden, which was named for (and inspired by) the Alcazar Castle gardens in Seville, Spain. Its vibrant flowers and pretty fountains make it one of the park's highlights.
Next, you'll visit The Old Globe, which is a copy of the Globe Theater in London, and home to a Tony Award-winning theatrical group. After that, head to the Botanical Building, a perfectly green oasis that's home to more than 2,100 plants.
And that isn't all: you'll also stroll throughout the heart of the Prado, visit the Spanish Village Art Center and Natural History Museum, swing by the sunken Zoro Garden, wander past the San Diego Model Railroad Museum, and finally conclude at the Plaza de Panama.
Before the 2.5-hour comes to a close, your guide will give you directions to the Balboa Park Visitors Center, give you tips on where to grab a bite in the area, and otherwise recommend further attractions within the park.
Pickup & Return:
The Founders Statue at Sefton Plaza.
Plaza de Panama, Balboa Park
San Diego, 92101.
Departure Times: 10amIncludes:
Local guide
Does not include:
Food and drinks
Souvenirs and personal shopping
Gratuities (optional)
Museum entrance
Additional Information:
Confirmation will be received at time of booking
Please wear casual dress and comfortable shoes, and take current weather conditions into consideration
The tour does not include museum access, though the guide can provide tips and information on visiting Balboa Park's museums
This is a family-friendly tour
This small-group tour requires a maximum of 12 people
Book Now!