3 Hour Yacht Charter for Up To 6 People

Description
3 Hour Yacht Charter for Up To 6 People Photos (1)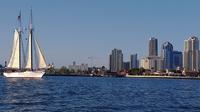 You have to love yachts. There's something about a yacht that just makes you want to live out in the sea.Ever since I was little I always dream about traveling around the world on a yacht. The truth is now I believe that you should savor every moment and cherish the time you have while you're here. Take advantage of all the experiences that are presented to you now. Traveling on a yacht can be one of the most exciting and rewarding things you will ever experience. Something about that fresh air mixed with the sun beaming down on your skin all at once. While moving through the seas like they did back in the days. Traveling around seeing countries and towns from an angle that you will never ever experience again. We are humans and we are made to live on land not in the sea. But, something about being on a yacht makes you feel like it's the most natural thing in the world. It's one of the most amazing experiences you will ever dream of having. The sea will become second nature and your body will adapt to the waves. So if you're hesitant to go on a yacht or scared you might get sick. All I can tell you is no matter the situation don't overthink it. The truth is you don't want to look back on these days and regret it. So, take advantage of having the opportunity to ride on a yacht and trust me it'll be great time.
After a quick check in and briefing with your captain you will have limitless option for your private charter. Take a sight-seeing tour, anchor up and relax and swim, or head toward the ocean and check out San Diego's native wildlife. The choice is yours!

If you choose to leave from our Downtown location you will be in the heart of San Diego Bay. Located in the Marriott Marina next to Seaport Village there is so much to see and do on your tour of the bay. The Midway Museum Naval Ship is located close by, marvel at its immense size as you cruise right underneath its massive hull. Then blast down to south bay under the Coronado Bridge and into the wide open spaces by the silver strand beach.

Our Coronado Island location is a popular departure spot as it is located next to a seafood restaurant and the Coronado Golf Course. Cruise through the marina and explore the many yachts that call Glorietta Bay home. Once you leave the marina you will be directly under the Coronado Bridge, a iconic spot for taking your 'mandatory' selfie! Blast through the expansive open speed zone of the bay and enjoy the sights of the San Diego skyline.

The charter includes water, and your choice or beer, wine or champagne. Let us know what you prefer and we will help you get the party started!

Pickup & Return:
Downtown
Coronado Island.
Departure Times: Earliest start time 10am

Includes:
All taxes, fees and handling charges
Fuel surcharge
Bottled water
Beverages
Driver/guide
Private tour
Sightseeing cruise

Does not include:

Additional Information:
Confirmation will be received at time of booking
Minimum drinking age is 21 years
A current valid passport is required on the day of travel
U.S and Canadian Citizens: Must bring a government issued photo ID and proof of citizenship (U.S birth certificate or naturalization certificate) or a passport for re-entry to the United States. Children, ages 18 and under only require a birth certificate. Non-U.S. Citizens: Either a Passport, I-94, Multiple Entry Visa or Resident Alien Card is required for re-entry to the United States
Subject to favorable weather conditions. If canceled due to poor weather, you will be given the option of an alternative date or full refund
Book Now!