San Antonio, Texas Hotels with Hot Tub / Whirlpool
View all 46 Hotels with Hot Tub / Whirlpool

San Antonio, Texas Hotels with Hot Tub / Whirlpool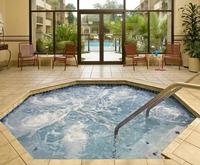 Rating:





Customer Rating:





Nice hotel, friendly staff. Their free shuttle bus is too small and not everyone can fit so we ended up not using it much.
Laura Giles
Mangnolia, TX
After a long day of exploring San Antonio, guests can enjoy relaxing in the hot tub at the Courtyard by Marriott. The hot tub is located indoors and offers various temperature settings depending on how hot guests want the water to get. Steps lead into the water with a rail for guests to hold onto so that they don't fall. New beds and bedding have been put in the rooms along with flat-screen televisions. Cable and Wi-Fi are offered in the hotel.
Indoor Hot Tub is open from 9 AM to 10 PM daily.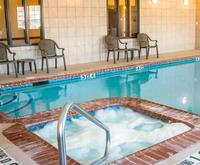 Rating:





Customer Rating:





Nice suit at nice people working there
Gelver Berdomo
Houston, TX
Guests staying at the Sleep Inn & Suites at Six Flags Fiesta have access to an inviting indoor hot tub and heated pool. Guests can easily change the temperature in the tub so that they are comfortable. Breakfast includes biscuits, eggs, waffles, and fresh fruits. Coffee is available all day. Rooms are designed with modern colors and decorations and feature free cable television, microwaves, and refrigerators. The hotel is located only two miles from Six Flags so that guests can quickly get to the attraction early in the day.
Indoor Hot Tub is open from 8 AM to 10 PM daily.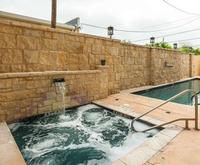 Rating:





Customer Rating:





Everyone was friendly and very helpful. The rooms were clean and the breakfast was wonderful.
Jody Nava
Farmers Branch, TX
The Comfort Suites Alamo/Riverwalk is located in San Antonio. The hotel does everything possible to make guests feel like they are at home with free cable television and Wi-Fi. A hot tub is located outdoors beside the pool. Intricate concrete details can be seen surrounding the pool as well as various plants and light fixtures. When the lights are on at night, they illuminate the water. Guests can enjoy a hot breakfast each morning while reading a newspaper. Rooms include a refrigerator and a microwave as additional conveniences.
Outdoor Hot Tub is open from 8 AM to 11 PM daily.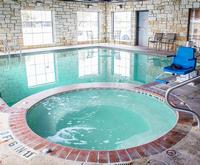 Rating:





Customer Rating:





Guests who are traveling in San Antonio near Seaworld have the option of staying at Comfort Suites. The hotel offers many of the luxuries that guests would have at home including a microwave and a refrigerator as well as free breakfast served each morning. There is also a hot tub indoors for guests to enjoy. The round design allows for more people to sit in the water on the seat at one time with the hot tub nestled against the indoor pool.
Indoor Hot Tub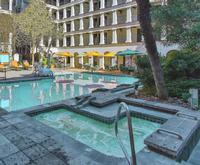 One of the amenities at the Doubletree Hotel in San Antonio is a relaxing hot tub that guests can enjoy throughout the year. There is a unique design of the hot tub that sets it apart from others in the area. Stone designs can be seen around the hot tub and pool as well. A restaurant is in the hotel where guests can get breakfast, lunch, and dinner with a complimentary breakfast served each morning. A shuttle service is offered to attractions within two miles of the property.
Indoor Hot Tub is open from 9 AM to 10 PM daily.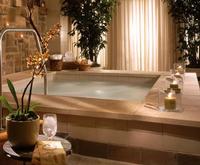 Rating:





The Mokara Hotel & Spa in San Antonio has a heated rooftop pool with cafe and 24 hour fitness center to work out in. Rooms have marble bathrooms, cotton robes, coffee makers, and stocked refreshment centers. Dine at Ostra for breakfast, lunch, dinner, a duckhorn wine dinner, and dessert. Eat at the Rooftop Cafe on select days for lunch after a swim. Stop by the spa for a facial, massage, manicure, and pedicure. The hotel is located near museums, theaters, and night life.
Indoor Hot Tub
View all 46 Hotels with Hot Tub / Whirlpool