San Antonio Hill Country Tour
San Antonio Hill Country Tour is no longer open.
Description
The Texas Hill Country of San Antonio is renowned for its beautiful rolling hills and rugged landscapes, and with Hill Country Tour you'll learn all about the area's rich history with this fun day trip!
This eight-hour narrated bus tour begins in San Antonio and takes you northwest to Fredericksburg, a small German town, where you can spend your time as you please. Whether you want to get in some great shopping at the shops along Main Street or visit the Japanese Garden of Peace, you'll be able to spend your time as you wish. Lunch is on your own at whichever restaurant you choose.
Next, you'll head further west along the Pedernales River where you'll get a tour of the LBJ Ranch in Stonewall, Texas. Your tour wraps up as you take a scenic route along the winding roads through Hill Country back toward San Antonio.
Detailed Tour Itinerary
STOP 1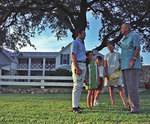 Hop-On Hop-Off at
Hop-On Hop-Off at
LBJ Ranch
For a step into history, the LBJ Ranch in Stonewall, TX is the perfect place for visitors. Some of the key points of interest located on the ranch include the Johnson Family Cemetery and the Texas White House. Guests can explore the area at their own leisure by obtaining a driving permit at LBJ State Park and Historic Site Visitor Center.
STOP 2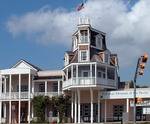 Stop at
Stop at
Admiral Nimitz Museum and Historic Center
Admission is not included, but guests can visit the museum at their own leisure. Also known as the National Museum of the Pacific, the Admiral Nimitz Museum and Historic Center in Fredericksburg allow guests to explore the history of this great city as well as the life and times of the great Admiral Nimitz. Guests can visit key areas such as the Admiral Nimitz Museum, George H.W Bush Gallery, the Japanese Garden of Peace, Memorial Courtyard, and the Plaza of Presidents.
STOP 3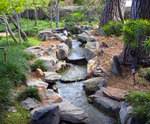 Stop at
Stop at
Japanese Garden of Peace
The Japanese Garden of Peace was gifted to the National Museum of the Pacific by the Japanese in honor of Admiral Nimitz. The garden is filled with stunning symbolic features such as raced gravel, pagodas, and more. Other important features include the Bamboo Spring, The Japanese House, The Pool and Stream, and the Stone Garden.
STOP 4
Stop at
Stop at
Fredericksburg, TX
On your visit to Fredericksburg, you will have the opportunity to tour the small German town as you please. Take a visit to the Admiral Nimitz Museum and Historic Center, see the Japanese Garden of Peace, or take the History Walk of the Pacific War. With plenty of eclectic and unique shops and eateries, you will have the opportunity to eat and shop along charming and beautiful Main Street.
STOP 5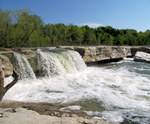 Stop at
After you have lunch on your own in Fredericksburg, you'll arrive in Stonewall at the LBJ Ranch along the Pedernales River. The ranch includes the Texas "White House" where you can hear all the tall tales of our nation's 36th President, Lyndon Baines Johnson, and his bride, Lady Bird.
Stops may change due to traffic, weather, maintenance, etc.
The Hill Country area boasts southern pride with its beer, wine, food, and good ol' southern hospitality. With cowboys and southern belles, Hill Country feels more like an old western movie than a tourist attraction. Divided into seven areas, Hill Country is filled with diverse shops, incredible views, and homegrown meals at all the fine eateries. You won't want to miss this incredible opportunity, so take a visit to one of the most beautiful areas in Texas with the Hill Country Tour!
History
Former President of the United States, Lyndon B. Johnson and First Lady, Lady Bird Johnson, brought immense attention to their homeland of the Hill Country area when he was elected in 1963.
In 1975, two of country-western music's most iconic and influential superstars, Willie Nelson and Waylon Jennings, released a song titled "Luckenbach, Texas" about a small town in the heart of Texas Hill Country. The song sent an immense amount of visitors down south to the Texas Hill Country San Antonio area. It didn't matter that neither singer had visited the place; what mattered was the sentiment incorporated within the song. Fans of the singers responded by visiting the beauty of the Texas flatlands, massive oak trees, never-ending fields, and crystal clear springs contained in the Hill Country area. The song gave even more meaning to the town's motto, "Everybody's somebody in Luckenbach."
Book your vacation package to San Antonio, Texas and enjoy all of the popular attractions.
Reviews
Customer

✓
Verified Traveler
This tour was really sweet, everyone should do it. It's a good experience.
Steven Rudolph
Jackson, Michigan
✓
Verified Traveler
Bus driver was knowledgeable and friendly
Mary
Battle Ground WA
✓
Verified Traveler
"This was a great tour."
This was a great tour. However, there is not enough time to tour the nimitz museum. You need at least 2-3 hours or more if you want to do the guided tour. This was an awesome museum so we were disappointed that we did not have enough time to do it justice.
Carol Campbell
Euless, TX
✓
Verified Traveler
All of us in the party that went on the hill country tour had a wonderful time. So much so that my husband and i are planning another trip sometime in 2015 for just the two of us.