San Antonio Grand Tour
San Antonio Grand Tour is no longer open.
Description
You will have a great time touring the historical sites of San Antonio, Texas on the San Antonio Grand Motorcoach Tour with a live narrator.
Enjoy the most famous sights in San Antonio on board a comfortable air conditioned tour bus. During your eight-hour tour, you can explore the historic Alamo and relax on a riverboat ride along the San Antonio Riverwalk, home of tropical foliage and fabulous shops, boutiques, and restaurants. You will also tour the Mission San Jose, Mission Conception, Japanese Sunken Gardens, El Mercado the traditional Mexican marketplace, and lunch at the San Antonio Riverwalk. Your knowledgeable tour guide will provide you with historical facts and stories of the sights along the way.
Detailed Tour Itinerary
STOP 1
Stop at
Take a tour of the Alamo, made famous for its part in Texas independence from Mexico. Today, the names of Jim Bowie, Davy Crockett, and Colonel Travis are still well known. Here, you can take a tour of the chapel, known as the Shrine of Texas Liberty, and of the Long Barracks, which contains a small museum with paintings, weapons, and other artifacts from the Texas Revolution era.
STOP 2
Includes Admission to
Includes Admission to
Rio San Antonio River Walk Cruises
Take a ride on a riverboat down the romantic San Antonio River. Here, you can discover a world of sidewalk cafes, lush tropical foliage, and charming boutiques as you take in the sights of the River Walk and more.
STOP 3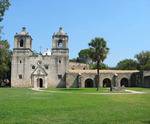 Stop at
Stop at
Mission Concepción
Known as the oldest stone church in the United States, the Mission Concepcion was restored in 2010 and still has Sunday mass. During your tour, you will have the opportunity to see many beautiful frescos, and the mission serves as a beautiful symbol of the strength of the Franciscan friars who attempted to convert the natives to Christianity.
STOP 4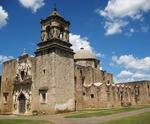 Stop at
Constructed in 1768 from local limestone, the Mission San Jose has served as many functions throughout its time, playing home base to many people including the Coahuiltecan Indians, soldiers, homeless, and bandits. Restored in the 1930s, San Jose offers visitors an elaborately carved portal, a beautiful rose window, and an interior full of beautiful art.
STOP 5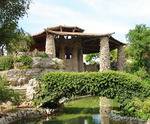 Stop at
Stop at
Japanese Sunken Garden
With an open-air pagoda, sprawling Koi ponds, and a cascading waterfall, the Japanese Tea Gardens offer visitors a peaceful break from sightseeing. The gardens feature lush, exotic vegetation and wheelchair accessible attractions.
STOP 6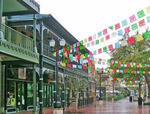 Stop at
Stop at
El Mercado - Market Square
Market Square-El Mercado is downtown San Antonio's outdoor center of Mexican culture. Visitors will have the opportunity to browse traditional Mexican shops, while discovering the bright and bold Mexican culture. The district is the largest Mexican shopping center in San Antonio and includes 32 shops, several restaurants, and live festivals.
Stops may change due to traffic, weather, maintenance, etc.
Perfect for San Antonio visitors wanting to make the most of their visit, the San Antonio Grand Tour is a blend of fascinating historical sights and the diverse culture of Texas. With incredible shopping opportunities and stops at the city's most famous landmarks and attractions, you will leave the San Antonio Grand Tour with plenty of great memories and stories from the past! Book your vacation package to Texas today!
Reviews
Cedric

✓
Verified Traveler
The tour was worth every penny. It's educational and entertaining. Bring the whole family!
Ben

✓
Verified Traveler
This was a great way to see the whole city in a day trip. I learned lots of information about the area from history to present.
James Summers
TX
✓
Verified Traveler
The tour guide was great and this was a wonderful chance to see what san antonio had to offer and learn the history behind the places we saw. Would highly recommend to others.
Kimberly Smith
Ben Lomond, Arkansas
✓
Verified Traveler
"Our tour guide was wonderful."
Our tour guide was wonderful. He made the day fun and interesting.
Tip: Be sure and take extra shopping money!