San Antonio Grand Double Decker Tour
101 Alamo Plaza San Antonio, TX 80838

Description
Take the Grand Double Decker Tour for an exciting way to see the city of San Antonio on a historical journey with a live narrator.
This 50-minute narrated tour takes you through downtown San Antonio for the perfect way to see the city! Led by a professional tour guide, you will enjoy a quality experience on this double-decker tour, and if once isn't enough, you can get the hop-on hop-off pass for one full day of unlimited access to the stops and points of interest on the tour. With the pass, you can easily jump off the bus to check out the sights before jumping back on at your leisure.
Detailed Tour Itinerary
STOP 1
Hop-On Hop-Off at
Hop-On Hop-Off at
The Alamo
Known as the cradle of Texas Liberty, the Alamo was established in 1718 as the first of five missions built along the San Antonio River. In 1836, Davy Crockett, Jim Bowie, Colonel Travis, and 186 men sacrificed their lives fighting for Texas Independence, and now it is one of the most popular tourist destinations in the United States. Walk through these hallowed grounds and see where these valiant heroes died.
STOP 2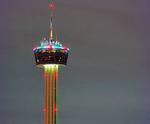 Hop-On Hop-Off at
Hop-On Hop-Off at
Tower of the Americas
Take a ride up the Tower of Americas glass elevators, where you will experience the breathtaking view from the observation deck located 500 feet above ground. During the stop, you can enjoy access to the revolving restaurant and gift shop.
STOP 3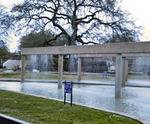 Hop-On Hop-Off at
Hop-On Hop-Off at
Hemisfair Park
Site of the 1968 World's Fair, Hemisfair Park is now a part of the University of Texas San Antonio. During the tour, you can explore over 50,000 square feet of exhibits representing 27 ethnic groups who settled in Texas.
STOP 4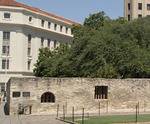 Hop-On Hop-Off at
Hop-On Hop-Off at
Spanish Governor's Palace
Renowned for its beautiful foliage, the Spanish Governor's Palace is the sole remaining example of an aristocratic early Spanish house in Texas. The one-story masonry and stucco structure is built in the Spanish Colonial style and features ten rooms and a grand courtyard with fountain. You will drive past the San Antonio Zoo and Brackenridge Park.
STOP 5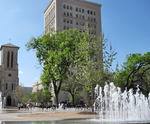 Hop-On Hop-Off at
Hop-On Hop-Off at
Main Plaza - Plaza De Las Islas
Founded in 1731 by 15 families from the Canary Islands, the Main Plaza is famous for its fountain and is located near the center of historic San Antonio.
STOP 6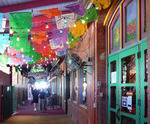 Hop-On Hop-Off at
Hop-On Hop-Off at
El Mercado - Market Square
Filled with shops vending colorful Mexican imports, El Mercado is the city's Mexican marketplace, where you can bargain for gifts from South of the Border and enjoy the many Mexican restaurants.
STOP 7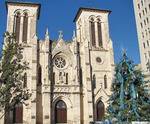 Hop-On Hop-Off at
Hop-On Hop-Off at
San Fernando Cathedral
The oldest cathedral sanctuary in the United States, San Fernando was built in 1734 by the settlers from the Canary Islands, and over 100 years later, it played a role in the Battle of the Alamo in 1836. You can see where some of the remains of those heroes are entombed.
STOP 8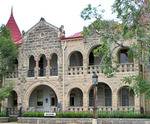 Hop-On Hop-Off at
Hop-On Hop-Off at
King William Historic District
This historic district is located south of downtown and bounded by Durango, South St. Mary's, Eagleland, and the San Antonio River. This area was originally irrigated farm land belonging to the Mission San Antonio de Valero, known as the Alamo, and since then, passed through many hands. In the 1860s, the area was subdivided into lots and laid out with the present streets.
STOP 9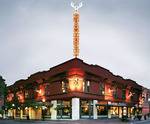 Hop-On Hop-Off at
Hop-On Hop-Off at
Buckhorn Saloon and Museum
You'll get a taste of the Old West at the Buckhorn Saloon, San Antonio's classic 1881 saloon and museum. Sip a refreshing drink as you stroll through 33,000 square feet of artifacts from Texas history and world record wildlife exhibits.
STOP 10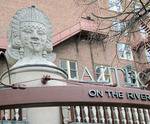 Hop-On Hop-Off at
Hop-On Hop-Off at
Aztec on the River
Built in 1926, the Aztec Theatre is a notable example of the impressive exotic-theme motion picture palaces constructed in the United State during the boom of the 1920s.
STOP 11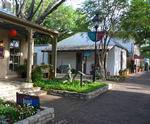 Hop-On Hop-Off at
Hop-On Hop-Off at
La Villita Historic Arts Village
This historic arts village is an art community in downtown San Antonio, and the area is scored with many fine arts galleries, restaurants, and stores selling souvenirs, gifts, custom jewelry, pottery, and imported Mexican folk art.
STOP 12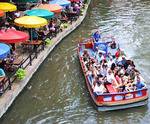 Hop-On Hop-Off at
Hop-On Hop-Off at
San Antonio River Walk
The San Antonio River Walk is a network of walkways along the banks of the San Antonio River. Lined by bars, shops, and restaurants, the River Walk is an important part of the city's urban fabric and a tourist attraction in its own right.
Stops may change due to traffic, weather, maintenance, etc.
Whether you're taking the tour itself or want to enjoy the one-day hop-on hop-off pass, this San Antonio Grand Double Decker Tour offers visitors a fantastic way to see the sights of San Antonio! For other great adventures in the city, book a vacation package to San Antonio Texas.