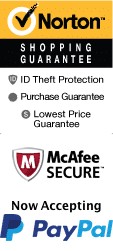 River Walk Cruise, Buckhorn Saloon & Hop-On Hop-Off Tour
111 Alamo Plaza San Antonio, Texas 78205
1-800-987-9852
Chat Now
Looking for a unique way to experience San Antonio's famous River Walk? Look no further than the River Walk Cruise, Buckhorn Saloon & Museum Hop tour. This tour offers you the opportunity to relax and enjoy a peaceful cruise along the San Antonio River while taking in the charming, historical scenery. Afterward, the Buckhorn Saloon and Museum await, showcasing over 500 animals from around the world, as well as other fun exhibits.

Your journey begins at the River Walk, one of San Antonio's most popular attractions. The cruise will take you through the heart of the city, where you will pass numerous riverside restaurants, shops, and cultural sites. You can learn more about the history and architecture of the area as you glide through the water, taking in the sights and sounds around you. The River Walk Cruise is the perfect way to begin any San Antonio adventure.

After this relaxing boat ride, guests can head to the Buckhorn Saloon and Museum. This museum opened in 1881 and boasts one of the largest collections of animal horns and antlers in the world. There is also a Texas Ranger Museum that features historical objects, weapons, and flags from members of the Texas Rangers. You'll see everything from exotic bird species to prehistoric beasts in this unique and exciting museum.

The Buckhorn Saloon itself is a must-see, as it captures the flavor and charm of old Texas with a fascinating history of cowboys and gunslingers. With a stuffed buffalo and longhorn steer hanging from the ceiling amidst decorative lamps and memorabilia from the days of the Wild West, it's easy to feel like you've stepped back in time. Visitors can also enjoy delicious food and drink at the saloon.

San Antonio's River Walk Cruise, Buckhorn Saloon & Museum Hop tour is an exciting opportunity to experience some of the city's most famous and unique attractions. You'll take a peaceful cruise through the city's waterways, then jump into the Wild West era at the Buckhorn Saloon and Museum. With so much to do and see, it's a perfect way to spend a day in San Antonio.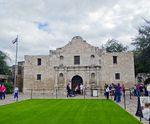 This historical place is perhaps the most important aspect of San Antonio culture. Head to the Alamo, a historic Spanish mission that saw one of the country's bloodiest and toughest battles. Learn about Texas independence and the battles that followed suit. Discover in the 18th century, this mission is vastly historic and paints a clear picture about the events that occurred here. Visit for a remarkable look into San Antonio's past that you cannot find anywhere else!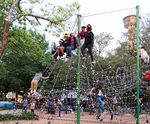 Stop at
Yanaguana Garden in San Antonio, TX
The Yanaguana Garden is the perfect place for enjoying some of the outdoor areas. Whether you want to play a game of chess at the giant chess set, have a picnic among the beautiful gardens, or watch your kiddos burn off some energy on the play equipment, there is something for everyone to enjoy. Plus, it is absolutely gorgeous!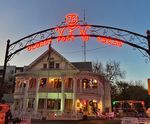 Stop at
VFW Post 76 in San Antonio, TX
Housed in a Victorian mansion, the VFW Post 76 is the oldest post in Texas. Here, guests will be able to enjoy the lively beer garden and enjoy drinks among other visitors.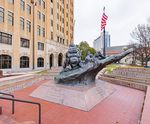 Stop at
Veterans Memorial Park
The Veterans Memorial Park stands as a testament and honor to those who fought in wars past. View the beautiful sculptures and learn about their significance while paying your respects to the military members who fought for the country. This sobering experience is a must when visiting the Riverwalk.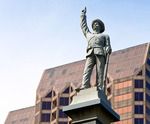 Travis Park was once part of the Alamo. Now, it offers some great grounds that are perfect for a picnic, stroll, or adventure through San Antonio. The park expands for 2.6 acres and offers everything from public events and more. It has been a staple in San Antonio since 1870.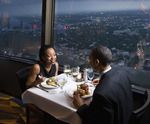 Stop at
Tower of the Americas
The Tower of the Americas affords some of the best views of the city. Ascend the tower which stretches an astonishing 700+ feet into the air. Get some of the coolest panoramic views while enjoying the city from a bird's eye view. Guests can also grab a bite to eat at the rotating restaurant or enjoy a 4D film while here.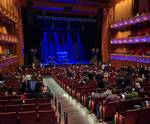 Stop at
Tobin Center in San Antonio, TX
Tobin Center is great for those who love theater. It hosts countless shows throughout the year, each featuring local actors and playwrights. Discover a new story with every visit to the Tobin Center.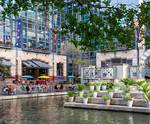 Stop at
The Shops at Rivercenter Mall in San Antonio, TX
Looking to get in some retail therapy while in San Antonio? Be sure to visit The Shops at Rivercenter Mall. This incredible mall has more than 100 retailers to choose from as well as eateries and even an IMAX theater. For a day of fun, this place is the perfect choice.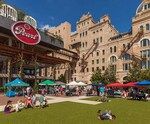 Stop at
The Park at Pearl
Located at Pearl Brewery, this quaint and charming park features a splash pad for the kiddos as well as some great landscaping and a peaceful atmosphere.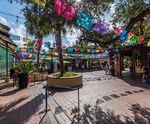 Stop at
El Mercado - Market Square
Visit the most interesting and fascinating marketplace in San Antonio when you trek to El Mercado. This market features many local wares, including Mexican food and cuisine. Guests will also find vendors peddling everything from clothing to jewelry.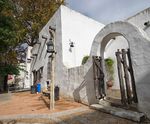 Stop at
Spanish Governor's Palace
This historic home is nestled in the bustling San Antonio Downtown district. Here, guests will be able to marvel at some of the most fascinating architecture in the city. The building is also the last bit of the Presidio San Antonio de Bexar complex and also features the 18th-century Spanish Colonial style. Explore the history of Alamo City when you pass by this beautiful home.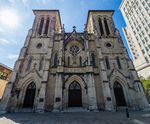 Stop at
San Fernando Cathedral
The San Fernando Cathedral is the longest-running religious function in Texas. Here, guests can marvel at the stunning architecture and beautiful landscaping. Once they step inside, guests can explore the church itself or even attend a service. It was founded in 1731 and has so much history to explore.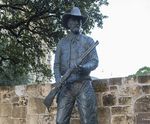 Stop at
San Antonio Museum of Art in San Antonio, TX
If you love art, you absolutely must visit the San Antonio Museum of Art. This art museum is dedicated to various works throughout history and from around the world. From 19th Century France to more modern Y2K pieces, the museum is perfect for art lovers.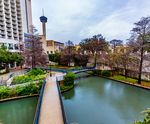 Pass By
Riverwalk Museum Reach in San Antonio, TX
Within the Riverwalk's Museum Reach, guests will find an abundant array of attractions and activities. Explore some of the most culturally-significant places while roaming the Riverwalk.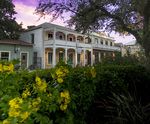 Pass By
La Villita Historic Arts Village
Explore San Antonio's rich culture with a visit to La Villita Historic Arts Village. This village is home to many pop-up market sides where guests can browse wares from local artisans. Whether you want to sink your teeth into some local cuisine, browse handmade textiles, or marvel at local art, this unique place offers so much adventure and fun.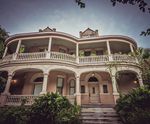 Pass By
King William Historic District
Located just south of downtown San Antonio, the King William Historic District gives great insight into the culture of San Antonio. It is proudly listed on the National Register of Historic Places and features amazing homes and various landmarks.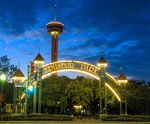 Hemisfair Park in San Antonio is a great place to visit for those who want to experience some fun in the city. This park houses the Tower of the Americas observation deck and also is home to the Institute of Texan Cultures. Guests can also enjoy the marvelous water features and fountains and the playground.
If you're looking for a unique and entertaining way to experience San Antonio, look no further than the River Walk Cruise, Buckhorn Saloon & Museum Hop tour. With a mix of relaxation and excitement, this tour is perfect for visitors of all ages. You'll make memories that will last a lifetime and have a thoroughly enjoyable time in one of America's most exciting cities.
Frequently Asked Questions for River Walk Cruise, Buckhorn Saloon & Hop-On Hop-Off Tour:
What is included in the admission price?

Includes a River Walk Cruise, admission to Texas Ranger Museum, and a Hop On / Hop Off Tour
Book Now!