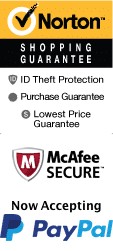 Holiday Scavenger Hunt in San Antonio by Holly Jolly Hunt
602 E Commerce St San Antonio, Texas 78205
1-800-987-9852
Chat Now
Embark on the festive Holiday Scavenger Hunt in San Antonio, an experience masterminded by Holly Jolly Hunt! This captivating experience will take you on a journey through the historic and beautifully decorated streets of San Antonio, Texas. Celebrate the holiday season in a dynamic way, combining competitive spirit and an appreciation for the city's festive charm, as you interact with your surroundings in an innovative style. Let your curiosity guide you through this memorable adventure as you uncover hidden aspects of this charming city during the most delightful time of the year.
Your adventure begins as you and your team are guided by a mobile app taking you through the heart of San Antonio. You'll be given clues leading to different locations around the city, decked out in holiday splendor, each offering a unique glimpse into the soul of this vibrant location. The beauty of this hunt is its flexibility; you can set your pace, taking as much time as you wish to enjoy each site. This activity requires a smartphone, a sense of spirit, and an eagerness to explore!
You may visit iconic landmarks such as the Alamo or the River Walk, intertwined with festive highlights such as the annual holiday lights. Further, imagine being challenged to locate Santa's Helpers or snap a picture with a holiday character. The range of the activities is wide and thrilling, geared at ensuring a stimulating exploration. With the city's festive allure as your backdrop, every find becomes a memorable holiday moment. The Holly Jolly Hunt started a few years ago as an innovative way to celebrate the holiday season, and it has since grown into a beloved tradition. The founders, passionate about bringing people together and celebrating city culture in a unique way, established the scavenger hunt to combine exploration, competition, and the magic of the festive season. Since its initiation, the hunt has brought joy to countless participants, making it a holiday activity not to be missed.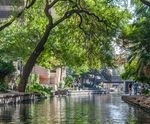 Stop at
San Antonio River Walk
One of San Antonio's most well-known attractions is the Riverwalk. When you come, you can meander along the San Antonio River while walking through exquisitely designed flora. Visitors can stop at renowned eateries, shops, and other locations along the way. Additionally, there are other cultural events that take place throughout the year on a seasonal basis, allowing visitors to thoroughly understand Texan culture with each visit.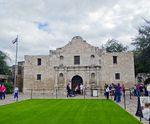 Visit the Alamo to learn more about its interesting and bloody past and the fight for Texas independence. There are numerous exhibits and displays in this lovely location that provide information about San Antonio's lengthy history.
To wrap up, the Holiday Scavenger Hunt in San Antonio by Holly Jolly Hunt is a chance to immerse yourself in the city's festive spirit and discover its captivating landmarks in a distinctive way. Whether you are a native or a visitor, this trip around San Antonio offers a new appreciation for its charm and holiday magic. Don't miss out on the opportunity to add a memorable chapter to your holiday story and to fall in love with San Antonio all over again.
Book Now!