Alamo Trolley Tour

101 Alamo Plaza San Antonio, TX 80838

Description
Alamo Trolley Tour Photos (12)
An Alamo Trolley Tour is perfect to give visitors insight into the history and culture of this great Texas City with its hop-on, hop-off option.
This trolley tour is approximately an hour long, and guides are locals from the area who are experts of its history. Listen to their suggestions for places to go, and make a note of the different sites the trolley passes so that you can return to them after the tour. This tour is a hop-on, hop-off tour and will allow guests to get out and explore each stop the trolley makes. For those taking advantage of the hop-on, hop-off option, guests will have roughly 45 minutes at each stop and trolleys come around every 45 minutes.
Detailed Tour Itinerary
Hop-On Hop-Off at
Hop-On Hop-Off at
The Alamo
Known as the crossroads of Texas history, the Alamo is famous for a small band of Texans that held out 13 days against General Lopez de Santa Anna. Come explore this historic landmark of Texas history where memorable figures such as James Bowie, David Crockett, and William B. Travis once stood.

Hop-On Hop-Off at
Hop-On Hop-Off at
Tower of the Americas
Get a ride up in The Tower of Americas glass elevators for a breathtaking view of the region from 500 feet above ground level. This spectacular tower also houses a revolving restaurant and gift shop.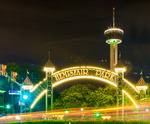 Hop-On Hop-Off at
Hop-On Hop-Off at
Hemisfair Park
Hemisfair Park is home to the 750-foot tall Tower of the Americas, originally built in 1968 for the World's Fair. In addition to the staggering tower, guests can explore Henry B. Gonzalez Convention Park and Armeson River Theater.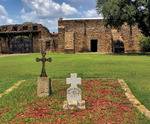 Hop-On Hop-Off at
Hop-On Hop-Off at
Mission San José
This historic Catholic mission was founded on February 23, 1720 and was originally built from brush, straw, and mud. A new church, constructed in 1758, was built from limestone and eventually restored in 1930s. Featuring images of Jesus Christ, St. Joseph, St. Francis and more, the Mission San Jose is an inspirational stop for many visitors.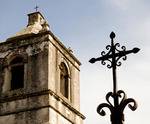 Hop-On Hop-Off at
Hop-On Hop-Off at
Mission Concepción
Designated a national landmark in 1970, Mission Concepcion was relocated to its present home in San Antonio in 1731. The Battle of Concepcion took place on it's grounds on October 28, 1835 making it a landmark of Texas history. Known as the best preserved of the Texas missions, the Mission Concepcion was founded by Franciscan friars.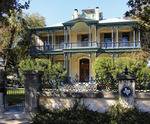 Hop-On Hop-Off at
Hop-On Hop-Off at
King William Historic District
Established in the 1840s by German merchants, this historic neighborhood is known for it's restaurants, shopping, and charm! Museums in the district include the Guenther House and Villa Finale. Guests on the tour wanting a quick bite to eat will love the district's countless dining options.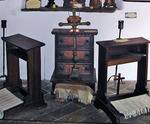 Hop-On Hop-Off at
Hop-On Hop-Off at
Spanish Governor's Palace
Originally created to protect the Alamo, the Spanish Governor's Palace is now a national historic landmark in downtown San Antonio. Widely known and regarded as the most beautiful building in San Antonio, the one-story masonry and stucco structure is considered the sole remaining example of an aristocratic early Spanish house in Texas.

Hop-On Hop-Off at
Hop-On Hop-Off at
Main Plaza - Plaza De Las Islas
This area has been around since its founding in 1731. 15 families created this wonderful location that features dancing lights that are visible after dark.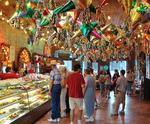 Hop-On Hop-Off at
Hop-On Hop-Off at
El Mercado - Market Square
Known as the largest Mexican shopping district in San Antonio, Market Square is complete with traditional and historic shops. Mexican culture and tradition come alive at this unique shopping center, offering guests a glimpse into traditional Mexican cuisine and life.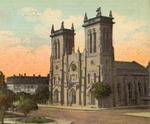 Hop-On Hop-Off at
Hop-On Hop-Off at
San Fernando Cathedral
The San Fernando Cathedral was originally completed in 1755 and remains at the heart of Catholicism in Texas. Listed on the National Register of Historic Places, the church played a dramatic role during the siege of the Alamo. Inside the church can be found a small coffin that most believe holds the remains of the men who died at the Alamo.
Stops may change due to traffic, weather, maintenance, etc.
With this fantastic tour, you will greatly enhance your experience and it give you a greater connection with this beautiful city.
Reviews
4.4 | 17 reviews
Ezra
TX
✓
Verified Traveler
This trolley tour was the best! The weather was great and the guide was fantastic, really knew his stuff. What a great way to explore san antonio!
jessica garcia
TX
✓
Verified Traveler
The tour was very complete and we were amazed.The driver talked non-stop about all the whereabouts,he did a very good job!. We are surprised that san antonio has all these old buildings and such a nice downtown too.
Deidre Morris
Arkansas
✓
Verified Traveler
Very informative and interesting... Our guide was very knowledgeable and polite to everyone who rode the trolley.
Wesley Harper
Kingfisher, OKLAHOMA
✓
Verified Traveler
"Our tour guide was great ."
Our tour guide was great ... Very informative
SAN ANTONIO TX
HOTELS & VACATION PACKAGES