Alamo Reflections Tour
101 Alamo Plaza San Antonio, TX 80838
1-800-987-9852
Description
With a great tour of historical attractions like The Alamo, Mission Concepción, Mission San José, and El Mercado, the Alamo Reflections Tour with Alamo Sightseeing Tours is one you'll want to be a part of!
At each of these stops, you will be able to explore some of San Antonio's most visited sites with things like the Alamo tour and the mission tours at your own pace before making your way back to the tour bus as your group heads towards the next stop. Enjoy the tour in the comfort of an air conditioned tour bus, with a tour guide providing you with historical facts and stories of the locations you are visiting.
Detailed Tour Itinerary
STOP 1
Tour Stop at
This is the most famous spot in Texas, and easily the most visited attraction in San Antonio. As the place where heroes like Jim Bowie, Davie Crockett, Colonel William Barrett Travis, and 186 others died fighting for their independence, The Alamo was originally established in 1718 as San Antonio's first mission, San Antonio de Valero named after the Spanish viceroy, Marques de Valero. The Alamo is one of the most incredible places with history dating back to before the 1700s.
STOP 2
Tour Stop at
Tour Stop at
Mission Concepción
This stone beauty, established in 1716 and donated in 1755, still stands due to its incredibly built structure. This church stands as the oldest church in America. It was originally decorated with bright, colorful designs that have dissipated with its age. The 30-minute Battle of Concepción was fought here in 1835 between Mexican troops. The church was named a National Historic Landmark in 1970, and restoration occurred in 2010 so Catholic services could once again be held in one of the nation's most amazing churches.
STOP 3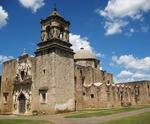 Tour Stop at
Tour Stop at
Mission San José
Founded in 1720, Mission San José is known as "Queen of the Missions" because it is the largest of all missions in San Antonio. After overcrowding, a new church (the one that still stands today) was built in 1768 from limestone. When mission activities officially ended in 1824, the buildings surrounding the mission served as a home to soldiers, the homeless, and bandits. In the 1930s, the church was restored to its original beauty.
STOP 4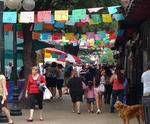 Tour Stop at
Tour Stop at
El Mercado - Market Square
Market Street in San Antonio incorporates the rich, colorful Mexican culture and resembles that of an actual Hispanic marketplace. With over 100 local shops and food places, El Mercado is sometimes known as "the largest Mexican market outside Mexico."
Stops may change due to traffic, weather, maintenance, etc.
SAN ANTONIO TX
HOTELS & VACATION PACKAGES
Book Now!