Culinary Tours in Sacramento, CA
A culinary tour is a great way to experience some fantastic flavors in the Sacramento, CA area.

Sacramento Most Popular Activities

After working a hard stress filled day, people are looking to do after they get off work and the regular happy hour becomes outdated but now they can board the ship and participate in the alive after five cruise with drinking, dancing and fun!
Available 60 days between Jun 21, 2018 & Sep 30, 2018
View Schedule
Dance the night away as a DJ spins beats the entire time and sip on delicious cocktails while checking out the beautiful cruise backdrop of the city on the Rock the Yacht Cocktail Cruise which is one of the hottest culinary tours.
Available 45 days between Jun 21, 2018 & Sep 29, 2018
View Schedule
Sacramento, California is famous for being home to Fort Sutter, and with this comes a lot of interesting touring that you can do, making the Sutter District Tour a must see if you have never been to Sacramento and you want to learn the history.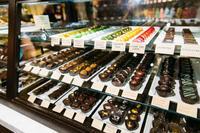 There is a chance for you to book one of the culinary tours in which you will have a chance to tour with your sweetheart in Sacramento, California with your friends and family who will have a historical lesson that they all will enjoy.
Available 190 days between Jun 20, 2018 & Dec 31, 2018
View Schedule