Hollywood Cemetery Electric Car Tour in Richmond

Description
Hollywood Cemetery Electric Car Tour in Richmond Photos (1)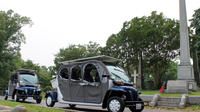 Spend a few hours touring the location that is the final resting spot for some important historic figures who helped shape the nation into what it is today with the Hollywood Cemetery Electric Car Tour in Richmond.
Your tour will take place in a low speed electric gem car. It is a very sleek and quite vehicle that will take you around one of the most popular attractions in Richmond where you'll have the opportunity to see and pay respects to such important historic figures as James Monroe, John Tyler, 28 different Confederate generals, Jefferson Davis and many more. The cemetery is also home to many notable landmarks including a memorial that was built in 1869 to commemorate over 18,000 men who served in the Confederate Army and were buried in this cemetery as well as the famous Iron Dog statue which stands tall guarding the grave of a young girl who passed away in 1862.
Reservations are recommended for this tour. Departure times are 11am, 12:20pm and 2pm. Each tour includes transportation throughout the cemetery and a professional guide who offers important commentary giving you all the history of the area. This tour lasts about 90 minutes and meets just inside the gates of the cemetery. There are only 2 cars for this tour so space is limited, book in advance.
See the final resting place of many people who helped shape the nation with a tranquil and historic tour with Hollywood Cemetery Electric Car Tour in Richmond.
Tour starts at the Historical Hollywood Cemetery just inside the main gate at 412 South Cherry Street. You will be met by there by our professional guide in one of our Low-Speed Electric Gem Cars. They will take you on an excitingly quite ride throughout one of Richmond's major attractions. This incredible attraction is the resting place of two United States Presidents, James Monroe's Tomb and John Tyler's Monument as well as 28 Confederate generals!

Along the way you will see a 90-foot high granite pyramid that was built in 1869 as memorial to the more than 18,000 enlisted men of the Confederate Army buried in the cemetery and will also come across the site of Jefferson Davis who was the President of the Confederate States of America and buried beneath a life-sized statue. Then there is the The Iron Dog statue, which is one of the most well-known monuments in Hollywood Cemetery. IT is a cast-iron Newfoundland dog and the statue stands guard over the grave of a little girl who died in 1862.

Come and experience a place that is is very historical to the history of the United States.

Pickup & Return:
Hollywood Cemetery
Inside the Gate.
Departure Times: 11:00am, 12:20pm & 2:00pm

Includes:
All taxes, fees and handling charges
Professional Driver/ guide

Does not include:

Additional Information:
Confirmation will be received at time of booking
Meet Inside the Gate at the Cemetery
Two Cars total, so there is limited availability
Book Now!