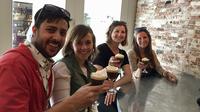 McCoy Stadium near Providence, RI
1 Columbus Ave Pawtucket, RI 02860
McCoy Stadium, located in Pawtucket, Rhode Island, is a massive, state of the art baseball field that is home to the minor league Pawtucket Red Sox, also known as the Paw Sox, who are associated with the major league professional team, the Boston Red Sox. The stadium is primarily dedicated to minor league play (MiLB), which is the tier beneath major league performance which typically trains and develops players for "the big leagues," In this fashion, McCoy Stadium is something of a training facility for aspiring MLBers to hone their skills in preparation for making it unto on the the internationally well known professional baseball league teams.
McCoy Stadium is also widely recognized for its relatively large size in comparison with many other minor league fields. Though this was not always the case, for it was not until the 90s that the stadium underwent a radical transformation and reconstruction due to the fact that it was not able to live up to international league standards, nor was it handicap accessible. In the 90s all of that changed and McCoy Stadium's seating capacity increased from a meager 6000 all the way up to well over 10,000. In addition to the large seating quarters, the field itself was expanded and luxury booths for VIPs as well as a souvenir stand were all installed, making both more spacious, comfortable and convenient.
Historically speaking, what most people remember about McCoy Stadium is that it was party to the single longest game of professional baseball in the history of the sport. The game occurred in 1981, featuring the Rochester Red Wings vs. none other than the Pawtucket Red Sox. The game lasted a incredible 8 hours and five minutes!

MOST POPULAR THINGS TO DO
IN PAWTUCKET RHODE ISLAND