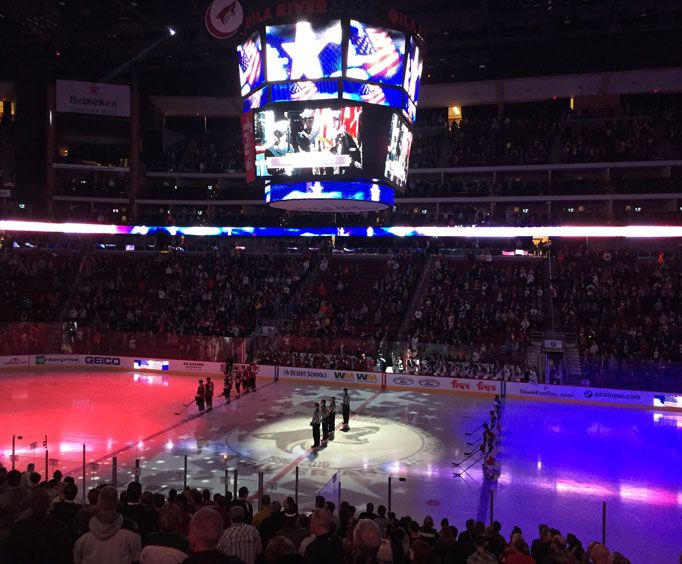 Gila River Arena near Phoenix, AZ
9400 W. Maryland Ave.
The Gila River Arena is a 19,000 seat venue located in Glendale, Arizona, just a few miles from Phoenix if you're planning on a vacation in Phoenix. The arena opened the day after Christmas in 2003. Its primary tenant is the NHL's Arizona Coyotes.
Part of the 223 acre Westgate Entertainment District, the arena has two separate concourses with open views of the ice. There are 87 luxury suites, along with 12 party suites that can accommodate up to 50 people. Fans have a variety of eating options to choose from, from traditional arena fare like hot dogs and beer to hand carved sandwiches, barbecue, and Papa John's pizza. They can also get a souvenir of their visit from the Coyotes Den team store.
Hockey is not the only event hosted by the Gila River Arena. Some of the best known musical acts have performed at the venue over the years, including The Rolling Stones, Justin Timberlake, Tim McGraw, and Ed Sheeran. The arena continues to book the biggest names in music, along with other entertainment like Nitro Circus, cage fighting, and Sesame Street Live. In February, Gila River Arena hosts the state high school basketball championships.
Conveniently located off the Loop 101, the Gila River Arena is a prime destination for anyone in the mood for sports, concerts, and other entertainment. The Westgate Entertainment District also offers numerous shopping opportunities. Fans can also go to one of the many restaurants or bars near the arena for dinner or a drink before the game or show. Or check out the tons of great things to do in Phoenix area during your fantastic vacation to Arizona.
Events at Gila River Arena