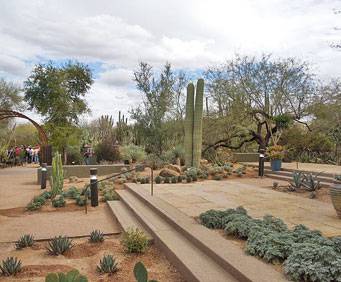 Desert Botanical Garden in Phoenix, AZ
1201 N Galvin Pkwy
The Desert Botanical Garden is quite a unique place to visit and a perfect sightseeing Phoenix AZ spot if you want to learn more about the desert and the plant life that can thrive there.
Located on about 150 acres of land near the Phoenix Zoo, the Desert Botanical Garden is filled with more than 20,000 plants indigenous to the desert. You can get a true grasp on the natural landscape of the area and how the Native American tribes saw it so many years ago.

There are four different trails that wind through this natural desert landscape. One, called the Discovery Trail, is paved in brick and features desert plants that could be found all over the world. Another trail, called the Sonoran Desert Nature trail, highlights desert plants from around the area, as well as the animals that live in the region. There are even exhibits and learning centers along the trail which depict how the Native Americans used the local native plants in their lives.
There is even a special center which depicts a real house and garden, and includes information on how it is operated using various energy and water conservation techniques. You will find that there is also a quaint patio café which uses the native plants and roots as much as possible in the cooking. A nearby greenhouse offers seedlings and plants for sale as well.
This is a truly unique way to spend several hours in Phoenix. The Desert Botanical Garden is a perfect way to learn how life in the desert might be and how people have survived for hundreds of years off the arid, desert land. Find other fun things to do in Phoenix when you book vacation packages to Phoenix Arizona.