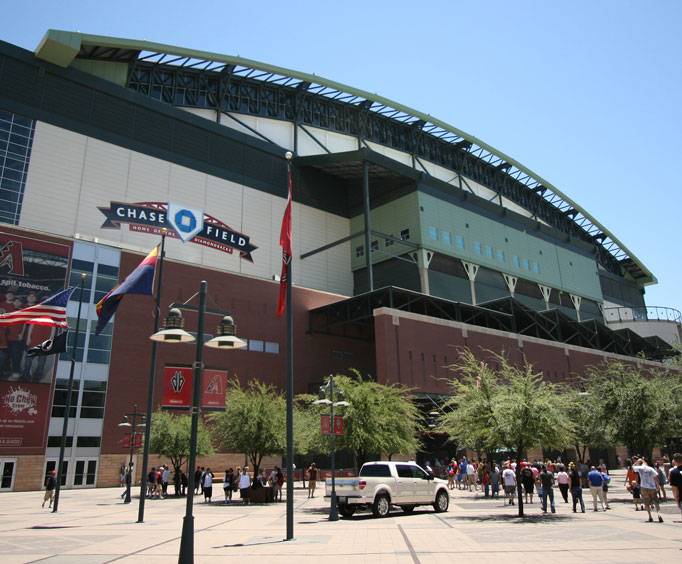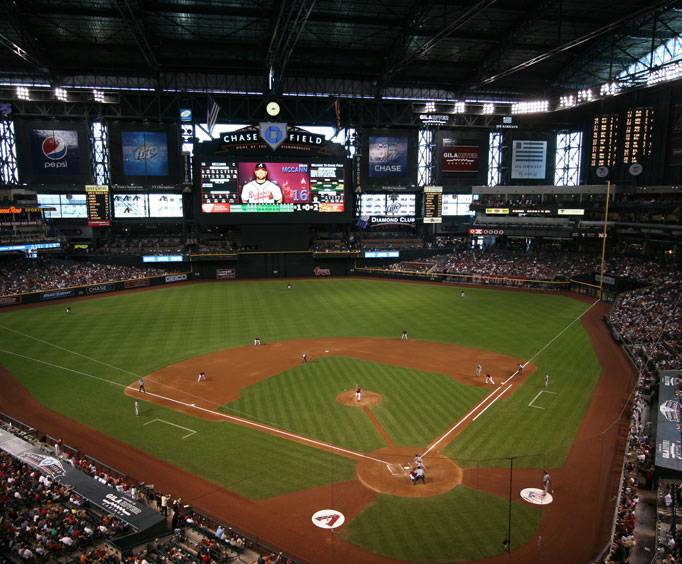 Chase Field in Phoenix, AZ
401 E Jefferson St
Chase field is a professional sports stadium located at the outer edges of downtown Phoenix Arizona. It is located at 401 E Jefferson St, immediately adjacent to Southern Pacific Railway center and minutes from Phoenix Sky Harbor International Airport. Chase Field is primarily used as a ballpark for Major League Baseball. It is home to the Arizona Diamondbacks MLB team and is a popular outdoor venue for other events.
Formerly Bank One ballpark, Chase Field, built in 1998, was the first Major League ballpark to feature a retractable roof. This allows for open air games in the cool of the fall and early spring, and closed dome climate controlled events in the rain or stifling Arizona heat. This feature combined with the park's prime location in beautiful downtown Phoenix make it a popular gathering place and venue for a variety of social events such as concerts and Monster Truck showcases. One noteworthy feature of the ballpark is the swimming pool. That's right, Chase Field features a swimming pool located in right center field. It is part of a large 35 person suite that is available to reserve for rental by guests seeking a unique way to take in a baseball game. The swimming pool suite is currently sponsored by Ram Trucks.
Chase Field offers visitors and residents of Phoenix alike a first rate experience. The fun filled atmosphere and inegration of activities with the surrounding community make Chase Field a great way to spend a day at the ballgame. Chase Field is definitely a must see destination for any visit to the Phoenix area. Book a last minute vacation to Phoenix Arizona and enjoy tons of things to do in Phoenix today.