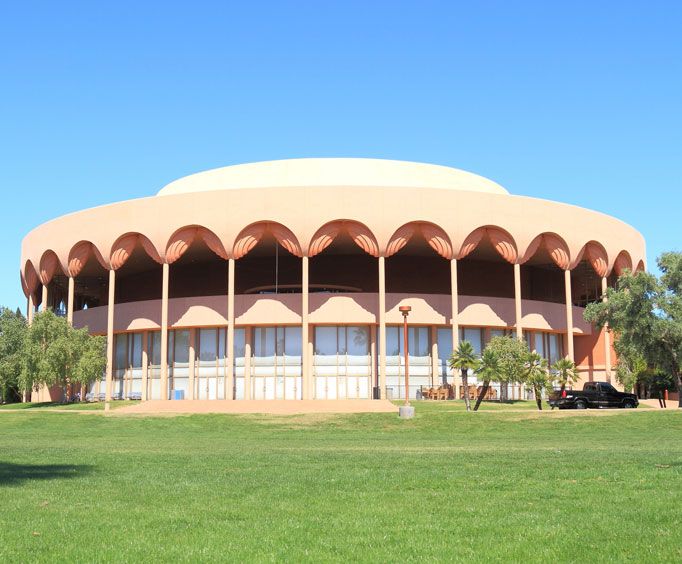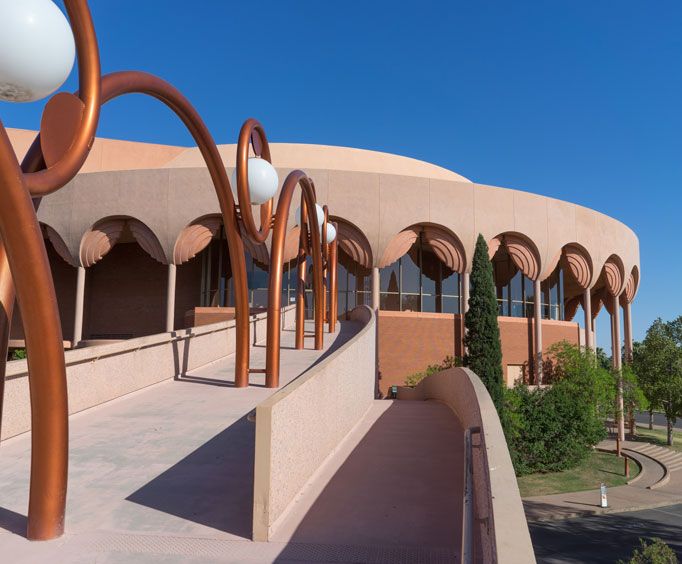 ASU Gammage near Phoenix, AZ
1200 S Forest Ave
The Grady Gammage Memorial Auditorium is a performing arts center located within the Arizona State University Campus in Tempe, Arizona. With proximity to Phoenix, this historic landmark in the artistic sphere is a must attraction for any tourist visiting the Phoenix Metropolitan area. In addition to hosting Broadway Across America, which features a touring revue of essential hit musicals and plays of Broadway, the auditorium is also host to a multitude of performance artists from around the world.
The auditorium was commissioned by ASU President Grady Gammage in 1957 to replace a previously damaged auditorium. Upon hiring the influential American architect Frank Lloyd Wright, the design of the auditorium took on the veneer of an opera house, which allowed the auditorium to stand out for its unique architectural design, notably absent in many sectors of the Southwest at that time. ASU Gammage is influential in American architecture as one of Lloyd Wright's last designs, in addition to its perfectly contoured design scheme and consistent featuring of worldwide performance art.
ASU Gammage is one of the premier performing arts institutions in the United States. In addition to being amongst the registry for the National Register of Historic Places, ASU Gammage offers an opportunity to see multi-cultural performance art and Broadway performances that would otherwise require long-haul travel. In addition to ASU Gammage, the university also offers an art museum and a ceramics gallery on campus for additional artistic and cultural enrichment, which could offer a full day of activities after visiting the historic auditorium. ASU Gammage is an American historical landmark that should be a must for any visitor to the Phoenix area. Find fun things to do in Phoenix area when you book an all inclusive stay in Phoenix, AZ.