ATV & UTV Adventure Tours 2019 Schedule
Click for More Information

Exclusive Online Offer: Family Pass Available
(Must purchase in advance online or toll-free at 1-800-987-9852)
Cline Cabin Rd Fort McDowell, AZ 85264
1-800-987-9852


ATV tours are 3.5 or 4 hours long, depending on tour you choose.

Included in the price is admission to the tour of your choosing.

Hotel Pick Up & Drop Off is Included
*View Details

Appropriate for All Ages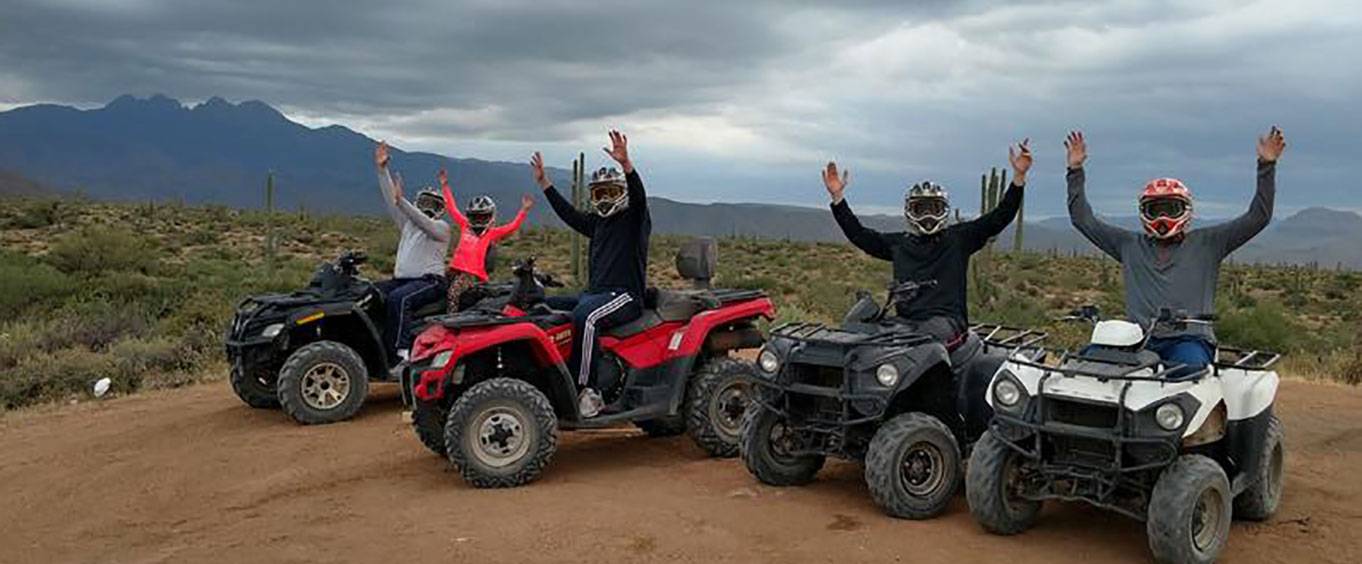 The ATV experience is well worth the upfront effort that is involved. People are amazed by the tours that they see and the fun that they enjoy. ATV & UTV Adventure Tours and other options will entice new travelers along the way. These tours will bring in a lot of new guests as well. The guide can showcase the right path and go on the trip itself. That helps tourists find the perfect way too.
ATV & UTV Adventure Tours Schedule
Guided Arizona ATV Adventure

Guided Arizona ATV Adventure with Transportation

ATV Passenger Rental

ATV/UTV & Hummer Adventure Combo

Date / Day
Available Times
Available Times
Available Times
Available Times
Apr 25
Thursday

N/A Sold Out

N/A Sold Out

Apr 26
Friday

Apr 27
Saturday

Apr 28
Sunday

Apr 29
Monday

Apr 30
Tuesday

May 1
Wednesday

May 2
Thursday

May 3
Friday

May 4
Saturday

May 5
Sunday

May 6
Monday

May 7
Tuesday

May 8
Wednesday

May 9
Thursday

May 10
Friday

May 11
Saturday

May 12
Sunday

May 13
Monday

May 14
Tuesday

May 15
Wednesday

May 16
Thursday

May 17
Friday

May 18
Saturday

May 19
Sunday

May 20
Monday

May 21
Tuesday

May 22
Wednesday

May 23
Thursday

May 24
Friday

May 25
Saturday

May 26
Sunday

May 27
Monday

May 28
Tuesday

May 29
Wednesday

May 30
Thursday
Book Now!
Exclusive Online Offer: Family Pass Available