Adventure Tours in Phoenix, AZ
An adventure tour is sure to inject some thrills and adventure in your next Phoenix, AZ vacation.

3-Hour Arizona Desert Guided Tour by Atv is a three to four-hour event; there is a professional guide throughout the tour offering commentary, there is bottled water, all safety gear is in the cost of the ticket, guests are sure to enjoy.
See the stars and surrounding wildlife as you travel out into the desert surrounding Phoenix in a comfortable Hummer while you use the available telescope and night vision gear that will allow you to see the stars even better as well as keep an eye out for wildlife.

Tourists will get a quick lesson on how to operate a Utv, and tourists will then travel through the Arizona Desert at high speeds while observing animals and Arizona landmarks, and tourists will then head to the shooting range where they will learn how to fire a variety of guns.
Jul 17
7:00 AM
7:00 AM
7:00 AM
Jul 18
7:00 AM
7:00 AM
7:00 AM
Jul 19
7:00 AM
7:00 AM
7:00 AM
Jul 20
7:00 AM
7:00 AM
7:00 AM
Jul 21
7:00 AM
7:00 AM
7:00 AM
Jul 22
7:00 AM
7:00 AM
7:00 AM
Jul 23
7:00 AM
7:00 AM
7:00 AM
Jul 24
7:00 AM
7:00 AM
7:00 AM
>

You and your entire family will continually smile with unforeseen pleasures as you let your Adventure Tours professional UTV guide pave the way, but not, through this private off road desert revelry of dusty delight through choice trails located within the 120,000 square miles of the world renowned Sonoran Desert of Southwest USA.
Take an extensive, intimate tour of the Arizona Desert by UTV when you take a professionally guided tour that will lead you out into the wilderness and to a genuine ghost town called Tip Top! Hear spooky stories of the city's once-booming past and much more while on the trip.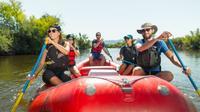 An adventure tour here can't be beat because not only can I get some great rafting in while soaking up the sun I also get to stop and take a swim in the Lower Salt River.
Available 136 days between Jul 19, 2018 & May 30, 2019
View Schedule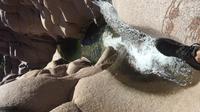 Canyoneering is something that I have always wanted to do and now I'm getting the chance to do it with the Canyoneering tour, along with a tour guide I'm going to venture into the canyonlands and experience a new world.
Available 152 days between Aug 1, 2018 & Dec 31, 2018
View Schedule
H1 Hummer Adventure from Phoenix is a four-hour event; there is a choice of leaving in the morning or afternoon, guests will get to see native wildlife in their natural environment, it is a family-friendly event, the driver will be the tour guide.