4-Hour Arizona Desert Guided Ghost Town Tour by Utv

Description
4-Hour Arizona Desert Guided Ghost Town Tour by Utv Photos (1)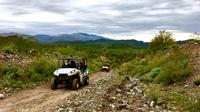 Get up and personal with nature in this four wheeling adventure in a "side by side" through the Arizonian Desert. Go on an off-road tour cruising through creeks, and wash riding. Don't be surprised to see snakes, spiders, and other animals native to the desert. Don't mind them, they are just passing through, as you are.
See a real abandoned ghost mining town, Tip Top, which at one time was the largest mining town in Arizona. Now it sits all alone in the barren desert. Hear the guide tell stories of the miners, and Native American Indians lives back then, and how hard it was to survive the extreme conditions.
This is a once in a lifetime experience cruising through the desert with no worries. Get to places usually not available to everyone, with an experienced guide who knows how to get around and back. It is a four hour tour round trip, that is only offered in Fall, Winter, and Spring. Summers are extremely hot, so no tours then. It includes the ride, guide, bottled water, and safety equipment.
There is enough room four people. Sorry pregnant women, and those with medical conditions are not recommended. Must be seven years old and up, and all will have to sign a waiver. Dress appropriately, no sandals or open toed shoes, skirts, or dresses. The tours are offered at 8:00AM, and 1:00PM. Ages 7 and up are $319.48.
Don't miss this opportunity for a once in a lifetime trek out into the wild blue yonder of the desert, to see and hear things not usually seen. Reserve early as tours sell out fast!
The guided UTV tour begins approximately 45 minutes north of Phoenix in the Sonoran desert near the Agua Fria River Valley. This area, amidst the beautiful Bradshaw Mountains, is perfect for off-roading. There are creek crossings and places for wash riding, as well as gorgeous views of the Arizona landscape.

You'll be accompanied by a certified guide with a vast knowledge of the plant life, wildlife, history and climate of the area. You can hear stories about the Native Americans who once farmed, hunted, survived and evolved in this unforgiving desert.

Said to be one of the richest gold-filled mountains in the US, the Bradshaw Mountains are the perfect backdrop for our trek to rediscover the remnants and history of Tip Top, an abandoned ghost mining town settled in 1876 which was, at one point, the largest mining town in central Arizona. Take a step back in time as you visit the stone structures and mines of this once thriving town. Your vacation won't be complete until you experience a true ghost town, in the middle of the rugged Sonoran wilderness, where few tourists ever go.

Pickup & Return:
Rock Springs, AZ.
Departure Times: Fall, Winter, Spring:
8am
1pm

Summer:
6am
7am

Tour Duration is inclusive of your check-in. Your UTV ride is approximately 4 hours.

Includes:
Safety gear (helmets, goggles and gloves)
Bottled water
Professional guided group tour
5-hours total, 4 hours of riding (1 Hour for checkout and training)

Does not include:
Transportation to/from attractions
Gratuities (optional)

Additional Information:
Confirmation will be received at time of booking
No skirts or dresses, no open toed shoes
Must be 16 years old or older to drive with a valid drivers license
Must be at least 7 year old to ride as a passenger
A signed waiver will be required in order to participate
All minors must be accompanied by a parent
Must be at least 18 years old to rent with a valid ID and major credit card
Not recommended for pregnant women, participants with back problems, heart conditions or other serious medical conditions
Each Vehicle holds up to 4 people
4-Hour Arizona Desert Guided Ghost Town Tour by Utv: 8:00am 4 Hour Guided Utv Tour
8am departure time
4-Hour Arizona Desert Guided Ghost Town Tour by Utv: 1:00pm 4 Hour Guided Utv Tour
1pm departure time
4-Hour Arizona Desert Guided Ghost Town Tour by Utv: 7:00am 4 Hour Guided Utv Tour
4 Hour Summer
Book Now!