3-Hour Arizona Desert Guided Tour by Atv
Description
3-Hour Arizona Desert Guided Tour by Atv Photos (1)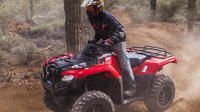 The three-hour Arizona desert guided tour is a very easy to take because you do not speaks too much money on this tour, and it does not take you out too far. Visitors from Phoenix love this tour. It's a safe way to get through the desert, and it is a fun way for you to see the desert with a group of people. You must plan this trek for a day when the weather is nice, and you could bring your whole family with you.
The three-hour Arizona tour is a lot of fun to see because you can get a lot of pictures taken during the tour. The tour is fun because you are stopped at many beauty spots, and you should see if the guide can show you the best places to take your pictures. The tour gets more exciting as you see more of the area, and each part of the area offers different colors and textures.
The Arizona that you plan to take should be used for your whole family. Everyone in your group can come together as friends, and you all start to have fun even after the tour is over.
Get your tickets in advance of the trip, and be certain that you have chosen to use the tour as a way to start the day or end the day. The desert looks different under different lights, and you must use the tour as a way to make your trip more relaxing.
The Arizona tour of the desert does not take too long, and it helps you see the desert from a new perspective that other people do not see. The guided ATV tour begins approximately 45 minutes north of Phoenix in the Sonoran desert near the Agua Fria River Valley. This area, amidst the beautiful Bradshaw Mountains, is perfect for off-roading. There are creek crossings and places for wash riding, as well as gorgeous views of the Arizona landscape.

You'll be accompanied by a certified guide with a vast knowledge of the plant life, wildlife, history and climate of the area. You can hear stories about the Native Americans who once farmed, hunted, survived and evolved in this unforgiving desert. Depending on trail conditions, your vacation tour could include enjoying 600-year-old ancient ruins!

Pickup & Return:
Rock Springs, AZ.
Departure Times: Fall, Winter, Spring:
8am
11am
2pm

Summer:
7am
4pm

Tour Duration is inclusive of your check-in. Your ATV ride is approximately 3 hours.

Includes:
Safety gear (helmets, goggles and gloves)
Bottled water
Professional guided group tour
4-hours total 3 hours of riding (1 Hour for checkout and training

Does not include:
Transportation to/from attractions
Gratuities (optional)

Additional Information:
Confirmation will be received at time of booking
No skirts or dresses, no open toed shoes
Must be 16 years old or older to drive with a valid drivers license
Must be at least 7 years old to ride as a passenger
A signed waiver will be required in order to participate
All minors must be accompanied by a parent
Must be at least 18 years old to rent with a valid ID and major credit card
Not recommended for pregnant women, participants with back problems, heart complaints or other serious medical conditions
A minimum of 2 people per booking is required
3-Hour Arizona Desert Guided Tour by Atv: 7am - 3 Hour Guided Atv Tour
7am - Guided 3 hour ATV Tour, show up at 7am
3-Hour Arizona Desert Guided Tour by Atv: 10am - Guided 3 Hour Atv Tour
10am - Guided 3 hour ATV Tour, show up at 10am
3-Hour Arizona Desert Guided Tour by Atv: 2pm - 3 Hour Guided Atv Tour
2pm - Guided 3 hour ATV Tour, show up at 2pm
Book Now!