4 Star Hotels in Orlando
View all 17 4 Star Hotels
While you're vacationing in Orlando, make sure that you get the services and extra amenities you need for your vacation by choosing to stay at four-star lodging. All of these four-star options have just what you need for a wonderful and luxurious stay in Orlando. Book your four-star accommodations today!

4 Star Hotels in Orlando
The Walt Disney World Swan Hotel is a four-star hotel that features luxurious amenities and rooms that are designed to make guests feel at home. A large outdoor pool is located just outside the hotel along with a small pond where guests can ride paddle boats that look like swans. There are also four other pools and a hot tub for guests to enjoy. Chandeliers hang from the ceiling in the lobby, and guests can enjoy breakfast and other meals with Disney characters. A fitness center features the latest equipment including treadmills and weight benches.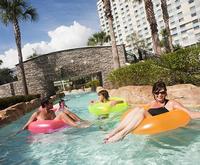 Rating:





Come and stay at Hilton Orlando Bonnet Creek and enjoy your vacation to the fullest. This is a 4 Star Hotel which means stunning amenities, spacious rooms a 3 acre pool, restaurants and so much more! Hilton Orlando Bonnet Creek offers free rudes to Disney themes parks so do not miss this opportunity and make your reservation now. All ages are welcome to stay with us at a very reasonable price, our customer service representatives will help you out 24/7.
The Hyatt Regency Grand Hotel is rated four stars because it's surrounded by main attractions and provides you with amenities which are nine on-site restaurants, an outdoor hot tub and pool, fitness center, championship golf course, world-class tennis, and racquetball courts, on-site gift shop, and babysitting services. Your just a short drive from Walt Disney World, Hollywood Studios, Animal Kingdom Theme Park, Disney's Blizzard Beach, and much more. Your room provides you with in-room coffee maker and iron complimentary high-speed internet, and other great amenities.
Hyatt Regency is located next to Orlando's main attractions and that's why it's rated to be a four-star hotel. The hotel has amenities that will make your vacation enjoyable which are fitness center, health spa, salon, hot tub, hot continental breakfast, eight different dining establishments and a half-acre, heated outdoor pool with slides and waterfalls. So get ready for a fabulous time in Florida with your loved ones. Nearby attractions are Walt Disney World and Universal Studios, and your room provides you with cable television, local calls, high-speed internet, room service, and other great amenities.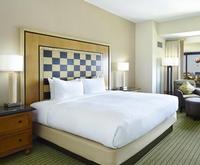 Rating:





Customer Rating:





Hilton Disney World Hotel is rated four stars because it's just minutes away from the Downtown Disney Market Place, Planet Hollywood, House of Blues, and many more attractions. Planning a trip to Disney World has never been easier. The hotel amenities are on-site ATM, foreign currency exchange, check cashing services, medical services in case of any emergencies, laundry valet service, on-site fitness center, car rental service, and other amenities. Your room provides you with a flat-screen TV, phone service, bathroom amenities, media service, refrigerator, and coffee maker.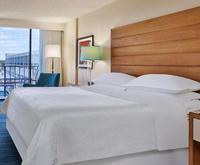 Bring the family, friends and even your pet to spend joyous days at the beautiful Sheraton Safari Hotel & Suites Lake Buena Vista enjoy complimentary Wi-Fi access a full-service Spa family suites. Enjoy a dip in the pool and even experience free transportation to the nearby Walt Disney World theme park. This hotel is a prime location. There is no need to worry about transportation. Many attractions nearby are within walking distance. There is no need to worry about transportation. This location is very close to restaurants and entertainment and there's a bar on-premises, as well as a gym.
View all 17 4 Star Hotels