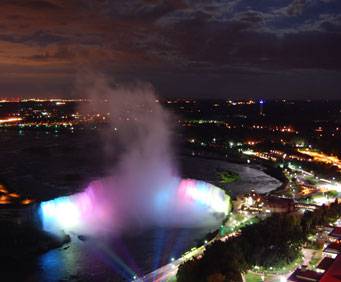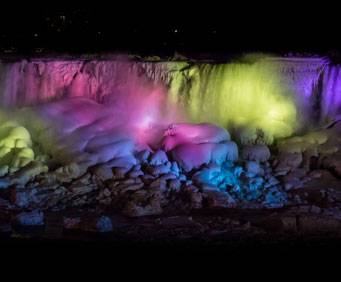 The Illumination Lights at Niagara Falls, ON
6415 Niagara Parkway Niagara Falls, , ON L2E 6S8
Originally proposed in the summer of 1860 to impress the Prince of Wales, these Illumination Lights, often called Battery of Lights, have continued to light up the Niagara Falls with beautiful colors for years.
On June 20th 1958, twenty (20) new carbon arc lights were installed by the General Electric Company of Canada at a cost of $153,000. Ten lights were aimed at the Horseshoe Falls and five lights were focused on the American Falls. In addition, two lights were aimed at Goat Island and two lights were focused on the Upper Rapids. The new lights each emitted 4,200,000 candlepower generating a total of 84 million candlepower. The new system included white lights and a combination of fifteen possible colors. Since then, the lighting systems have been updated.
Later, a battery of three Xenon lights were built to shine directly on the American Falls from a location along the Ontario Power Company access road on the Canadian shore. Both satellite locations are operated by remote control.