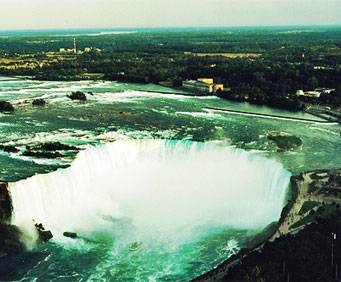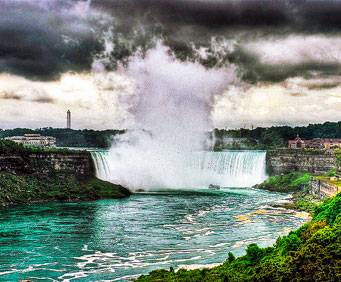 Canadian Horseshoe Falls in Niagara Falls, ON





(
5.0
)
Based on

5

reviews ↓
As the largest and most impressive of the three waterfalls that make up Niagara Falls, Horseshoe Falls is the image that usually comes to mind when mentioning this natural wonder.
Located between New York's Goat Island and Ontario's Rock House, Horseshoe Falls has a crest that's an incredible 2,200 feet wide! The water churns over the crest at speeds of about 20 miles per hour, and has an average elevation of 500 feet. Of all of the combined water of American Falls, Bridal Veil Falls, and Horseshoe Falls, about 90 percent of the total crashes over the crest of Horseshoe Falls!
Over the years, the falls have attracted daredevils from around the world, as the first person to successfully tumble down the falls in a barrel was a 63-year-old teacher named Annie Taylor in 1901. After surviving the tumble, Taylor's first reaction was, "No one ought ever do that again." Find out for yourself why when you visit the Horseshoe Falls at Niagara Falls!