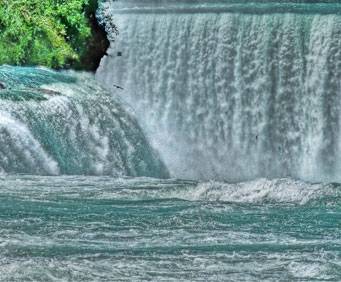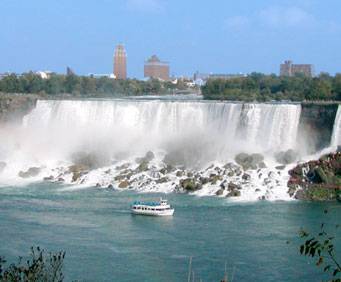 American Falls in Niagara Falls, NY
Located on the United States side of the American-Canadian border, American Falls pumps 150,000 gallons of water per second over the crest of the cliff.
The falls are noted for the collection of rocks at the base, as the water cascades 70 feet down onto the rocks, where it crashes another 100-plus feet to the river below. The crestline stretches 850 feet across. The American Falls is located between Prospect Point and Luna Island, next to Bridal Veil Falls and the Canadian Horseshoe Falls (which are all three generally referred to collectively as Niagara Falls).

Over the years, the falls have attracted daredevils from around the world, as the first person to successfully tumble down the falls in a barrel was a 63-year-old teacher named Annie Taylor in 1901. After surviving the tumble, Taylor's first reaction was, 'No one ought ever do that again.' Find out for yourself why when you visit the American Falls at Niagara Falls!