Haunted House - Niagara Falls, ON Schedule


This Tour takes approximately 15 min.

Appropriate for All Ages

Both Cameras and Video Cameras are Permitted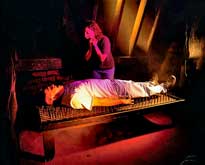 The Niagara Falls region provides a varying display of excitement for visitors. From the the immense power of the falls to the relaxing thrill of golf, but no attraction is quicker to raise the hairs on your am than the Haunted House. If you're looking to get your adrenaline pumping and blood running while on vacation you need to look no further. Haunting noises and frightful sights wait around every turn in the Haunted House.
Full Calendar
Book Now!