The Last Illusionist, ON

Description
The Last Illusionist - Niagara Falls, ON Photos (1)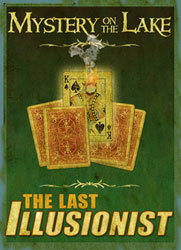 Be a star in an interactive tour involving mystery, danger, illusion, and secrets by joining The Last Illusionist at the Queen Street Arts & Entertainment District of Niagara Falls, Ontario. This Mystery on the Lake Productions and iTheatre Inc. production differs from the regular theater production in that it is the audience who become the main characters while the theater actors become supporting staff and guides. The audience will only get to know where the starting off point is when they buy the ticket. The audience/performers will then be grouped into 12 or 14 people — it is also a mystery who among the group members are actual performers.
In this 2-hour tour, you will be moving from one venue to another in search of clues, where you'll more or less go on a walking tour of the area seeing the local points of interest. The plot varies but you will be, in most part, involved in a challenging quest which also includes drama and comedy.
Details:
Available on Canadian side of Niagara Falls.
See schedule for exact dates and times.
Activity lasts approximately 2 hours.
Parking is available.
Children under 12 must be accompanied by an adult.
Comfortable shoes are recommended.