Bronto's Adventure Playland

Description
Bronto's Adventure Playland Photos (1)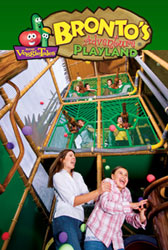 Bronto's Adventure Playground is an amusing theme park experience geared toward younger visitors and features a variety of play centers including the Ball O City Play Zone and the Bronto Veggie Tale Adventure Playground, an indoor jungle gym and an entertaining attraction for kids of all ages. The thrilling play area features 3 individual play centers for tons of fun. The Veggie Tale playground is a magnificent three story jungle gym. Kids can enjoy the soft ball blasters, blast down the speedy slides, climb the challenging cargo nets, and maneuver around colorful obstacles. Kids can climb on, jump on, and run throughout the entire attraction.
Kids can load the giant volcano with the soft spongy balls and then watch the impressive volcano erupt. Just press the button and the soft balls explode into action in the sky. Youngsters can scale the rope ladders and then navigate the awkward staggered steps. The giant playground is located just a short walk from the magnificent Niagara Falls.
Details:
See schedule for exact dates and times.
Suitable family fun for children of all ages.
Park is handicap accessible, though some attractions are not.
Available on Canadian side of Niagara Falls.
Book Now!