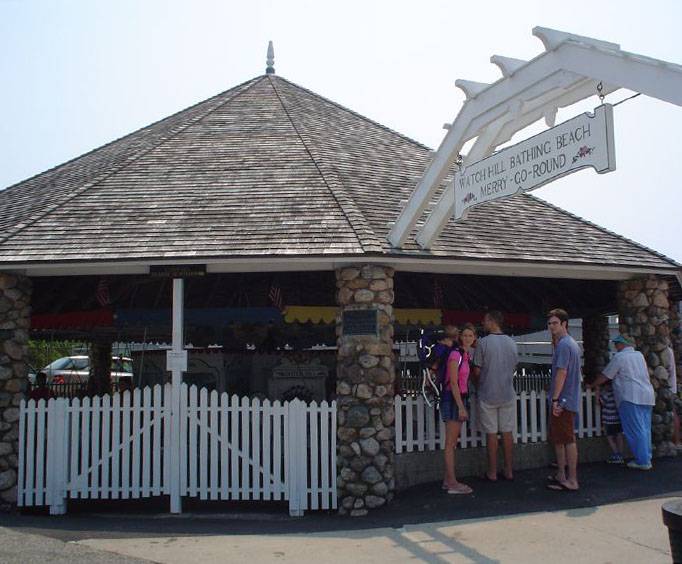 Watch Hill Beach and Carousel near Newport, RI
151 Bay Street Westerly, RI 02891
Watch Hill Beach is located in the southwestern portion of Rhode Island. This beach is a major tourist draw for its beautiful waters, soothing sand, and its historic flying carousel. People who purchase admission into this beach for the day have full access to restrooms, bathhouses, and showers. The Watch Hill Beach staff can also sell guests chairs, boogie boards, lockers, and umbrellas for the day.
The Watch Hill Beach Flying Horses Carousel that is located on this beach has a very mysterious history. Most people claim that this carousel was constructed in 1867 by New York's Andrew Christian and Charles Dare Company. That would make it the oldest operating carousel in the USA. Why exactly this carousel ended up at West Hill Beach, however, is anyone's guess. The most popular explanation for why West Hill Beach has the carousel is that it was left there by a traveling circus in the late 19th century. Despite its age, this carousel has withstood the test of time and severe weather. Any child above five feet and under 100 pounds can enjoy a safe and fun ride on these ancient ponies.
In addition to the carousel, West Hill Beach hosts various fun events for the entire family in the summer season. Some popular events include a Lobsterbake, a trivia night, and movie nights on the beach.
West Hill Beach is a perfect family destination for anyone traveling around New England during the summertime. If you are looking for a classic New England beach to make summer memories in, then look no further than West Hill Beach in Rhode Island.