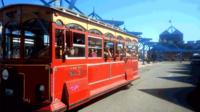 Goosewing Beach near Newport, RI
South Shore Road Little Compton, RI 02837
Goosewing Beach Reserve: What Is It?
As the name might betray, Goosewing Reserve is a beach reserve, located in Little Compton, Rhode Island (southeastern Rhode Island, that is). It is a system of pristine coastal ponds, dunes, and beach environments. As one of the most scenic spots in the state of Rhode Island, it is a popular spot for visitors, especially nature enthusiasts, hikers, and sightseers.
But the 75-acre nature reserve is more than just a sightseeing exhibit, however. During the summer, its many beaches are open to the public for recreational services. Most pets, however, are restricted from the reserve, and dogs are banned from April 1st till September 1st.
Conservation Efforts
The Goosewing Beach Reserve works with the Little Compton Agricultural Conservancy Trust, and the Rhode Island (RI) Department of Environmental Management in their efforts to conserve rare and endangered wildlife native to the region.
Let's get into the specifics of the conversational value of Goosewing Beach. It is one of the only known breeding sites in the state of Rhode Island for the incredibly rare Piping Glover. Only 5 other sites in Rhode Island house locations in which this endangered shorebird breeds, making it an important location for the preservation of this species of bird.
In addition to the Piping Glover, the reserve is an ideal breeding location for the Least Tern, another state-threatened species of bird. Unfortunately, these wonderful birds are threatened by a number of threats, including past over-hunting, increased ocean front development efforts, dune and beach improvement projects, and predation. The Reserve and the conversational organizations responsible for managing it make preserving and repopulating these bird species their highest priority.