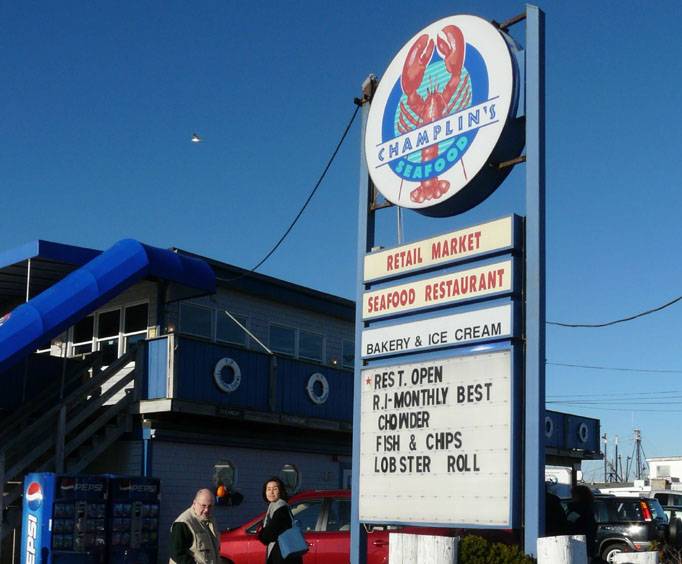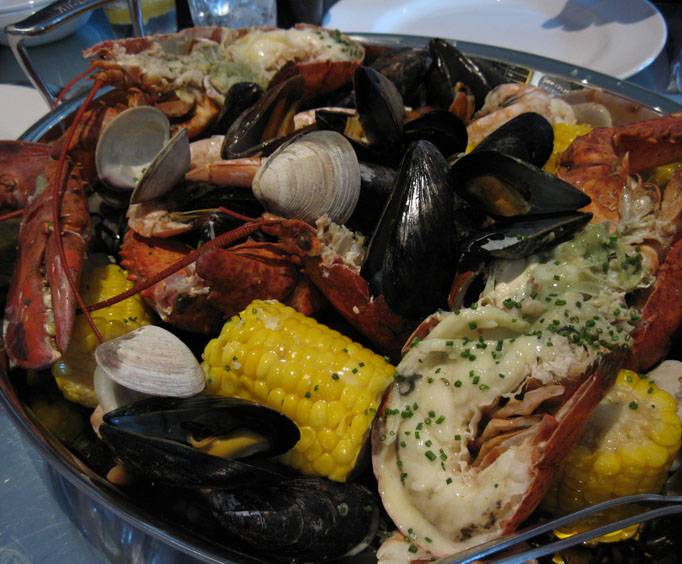 Champlin's near Newport, RI
256 Great Island Rd. Narragansett, RI 02882
Champlin's Seafood is a combination restaurant and retail market which sells a great selection of fresh, New England seafood. The restaurant is located directly on the Block Island Sound in Narragansett, RI, near the charming city of Newport, RI. The market is open year round. In addition, patrons have the convenience of ordering fresh seafoood, spices, and cooked products online including a wide selection of live lobsters and crabs, shellfish, whole and filleted fish, shrimp, scallops, and grocery items such as crab boil seasoning.
With al fresco seating upstairs at Champlin's, you can savor your meal while enjoying the smell of salt water and fresh fish in the air and listening to the sounds of the joyous gulls flying about. The menu is plentiful, containing items that will appeal to adults and children of all ages. Your taste buds will be delighted eating any of the chowder, lobster, or fried fish varieties available for order. If you don't fancy seafood, chicken fingers, hamburgers, and hot dogs are available as well.
Champlin's was voted the best fish in the Rhode Island Monthly Reader's poll, solidifying it's success. The establishment first opened almost 70 years ago and has been thriving ever since. Most of the seafood available in the restaurant and for purchase at the market comes directly from the vast waters of the Atlantic Ocean and from the bountiful Narragansett Bay off the coast of Rhode Island. Boats of fresh seafood arrive on the premise starting at 6 AM daily and continue to deliver plentiful cargo throughout the day.
Due to Champlin's proximal location to the Judith Point Block Island Ferry terminal, it's the perfect locale to start or end your day or weekend visit to Block Island. When you dine at Champlin's, you'll be sure to satisfy your craving for delicious New England seafood. Stop in today for whatever fish flavors you desire!