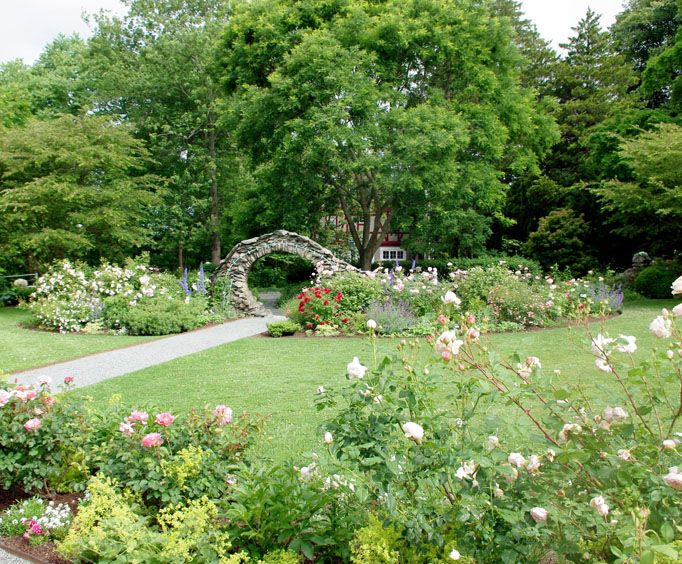 Blithewold Mansion Gardens & Arboretum in Newport, RI
101 Ferry Rd. Bristol, RI 02809
If you are looking for a place surrounded by natural beauty, full of amazing views, and rich in history, stop by Blithewold Mansion Gardens and Arboretum in Newport, Rhode Island.
This old estate hosts numerous events throughout the year as well as a space for rentals for events like weddings or other gatherings.
Blithewold Mansion Gardens and Arboretum sits on 33 sprawling acres of land in Rhode Island. Its grounds offer a breathtaking view of Bristol Harbor and Narragansett Bay. The grounds are home to more than 300 different plant species that are both native and exotic, some of which hail from places like Europe, China, and Japan. The grounds also contain a beautiful Bamboo Grove that covers an area that is roughly the size of a tennis court. The bamboo grown there is yellow-groove bamboo which grows roughly 33 feet tall.
The mansion itself was built in the 1890s by Augustus and Bessie Van Wickle to serve as their summer home. Van Wickle was a wealthy man who had gained his fortune through the coal-mining business. However, the present grounds are mostly the design of John DeWolf and date back to the late 1890s, though some were done in the early 1900s. The property is listed on the National Register of Historic Places, and received the honor in 1980.
For a view of some amazing plants, a beautiful harbor and bay, and an incredibly old and historic home, head to Rhode Island. The Blithewold Mansion Gardens and Arboretum is an amazing tribute to the way the wealthy lived with decadently detailed décor and gorgeous sights. The breathtaking and peaceful grounds are the ideal backdrop for any event you may have.
Events at Blithewold Mansion Gardens & Arboretum