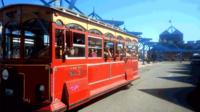 America's Cup Avenue Newport, RI
America's Cup Ave Newport, RI 02840
Newport, Rhode Island is nothing short of a historical treasure. Located across from Jamestown on the water, you get a sense of originality as well as tradition on this small strip. A small strip called America's Cup Avenue is known as the eatery capital of Newport. Along with tours and ferry's to bring the sights and sounds, enjoy the eats here on the water on America's Cup Avenue.
Some amazing restaurants line the boardwalk on this avenue. One in particular is The Mooring. Known for its amazing local seafood, locals cant get enough of it. Their dishes marvel the traditional New England seafood, not to mention their delicious wine parings! Brick Alley Pub and Restaurant might be more your style for a night out with friends. They have an amazing selection of brew and traditional American cuisine to fit anyone tastes. If you are more interested the historical aspect of America's Cup Avenue, then stroll by Perrotti Park. Located right on the shore, take the ferry through fall river to Jamestown while munching on your lunch. If you're lucky, you can snag a tour of the historic park and surrounding Newport.
There were concerned when expanding this street in particular. Locals said that the new four lane highway might diminish tourism. America's Cup Avenue took hold of the new challenge and made itself even better. With new diverse restaurants to expanding tours and historical guides you wont pass this place by.