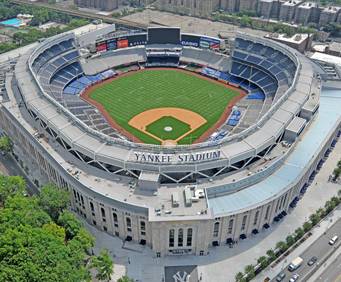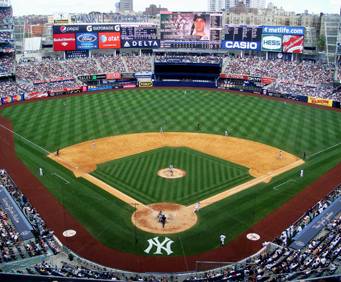 Yankee Stadium in New York City, NY
1 E 161st St Bronx, NY 10451
The following tours visit Yankee Stadium:
5/21/2019 - 3/31/2020
Experiencing the thrills of New York City first-hand has never been as easy or exciting as with this 48-hour pass to enjoy over 50 stops throughout the Big Apple from the luxury of a Double Decker Bus.
The following tours go by Yankee Stadium:

On this scenic tour, you will be able to see the cultural diversity of the only New York City borough connected to mainland and see famous landmarks and buildings like the Bronx Zoo, Poe Park, Little Italy, and take part in a Graffiti Workshop!

The new Yankee Stadium was completed just in time for the 2009 season, after about two and a half years of construction. The stadium replaced the original one, which opened in 1923. The new stadium is across the street from the old stadium location. Yankee Stadium was constructed on the former site of Macombs Dam Park. On the day of the stadium opening, the Yankees beat the Chicago Cubs in a pre-season exhibition game on April 2, 2009.
The stadium resembles the original stadium in many design elements. The exterior of the stadium, made from 11,000 Indiana limestone pieces, is reflective of the 1923 stadium and features the same V-cut and gold-leaf letters above each gate.

Inside, the history of the Yankees is displayed through hundreds of photographs. The roof of the stadium, a replica of the original frieze, was a trademark of the original park. The seating is even similar to the old stadium. Grandstand seating stretches beyond the foul poles, and there are bleacher seats beyond the outfield fences, the field and main levels comprise the upper bowl and two-thirds of the seating is in the lower bowl. 51,000 fans can fit comfortably in the stadium seating, though there is a standing room capacity of 52,325.

Also inside the stadium is a large number of amenities, including 227 miles of wired ethernet cable, 1,100 high-definition video monitors, and around $10 million worth of baseball merchandise, like the "ball wall," where balls from Babe Ruth and other players are autographed and on display. The center field scoreboard is the fourth largest high-definition scoreboard in the world. There are also many restaurants and concession stands in the park.