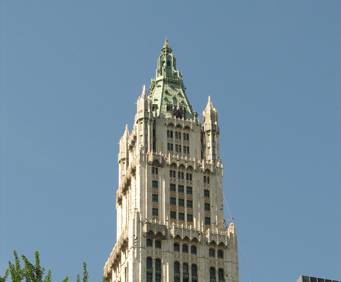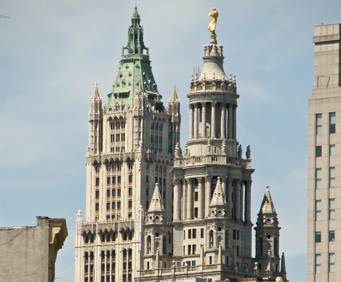 Woolworth Building in New York City, NY
233 Broadway New York, NY 10007
Designed in 1913, the Woolworth Building is still, to this day, one of the twenty tallest buildings in NYC and one of the fifty tallest buildings in the U.S.
The building has been a National Historic Landmark since 1966 and a New York City landmark since 1983. It was designed by architect Cass Gilbert, who also designed the U.S. Customs Building. He was hired by Frank Woolworth in 1910 to build the tallest building in the world. The construction cost $13.5 million, which was paid to Gilbert by Woolworth in all cash.
The Woolworth Building was constructed in the neo-Gothic style. It stands nearly 800 feet high. The lobby has been described as "one of the most spectacular of the early 20th century in New York City," with its vaulted ceiling, mosaics, stained-glass skylight and bronze furnishings.
The Woolworth Company occupied just one and a half of the 57 floors when the building first opened. The owner rented space out to companies such as the Irving Trust bank and Columbia Records. The Woolworth owned the property for 85 years before it was sold to the Witkoff Group for $155 dollars in 1998.
The building has also been featured in films like Enchanted and Cloverfield.
The following tours go by Woolworth Building:
The New York See It All Tour is exactly what it sounds like: an all-encompassing guided tour of New York City.