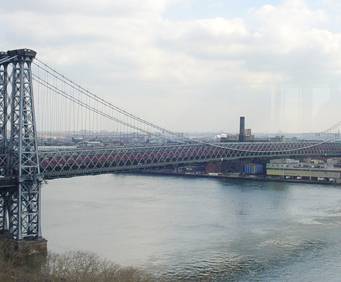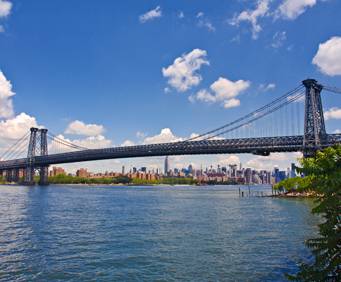 Williamsburg Bridge in New York City, NY
The Williamsburg Bridge was built in 1903 and was the longest suspension bridge in the world at the time.
It stretched across 1,600 feet with a length of 7,308 feet. It was also the first bridge to have all-steel towers. These steel towers stand at 310 feet and measure about 18 inches in diameter. Approximately 17,500 miles of wire were used in the cables to suspend the bridge 135 feet above the East River. These trusses withstand high winds and support rail traffic on the deck, at the same time.
Though the bridge was originally designed to carry horse and carriage transportation, and was one of the last major bridges to do so, it was also able to carry rail, trolley and pedestrians travel. The trolley tracks, however, were replaced with roadways in the 1920s, when the automobile became the primary mode of transportation.
The Williamsburg Bridge links Manhattan and Brooklyn. There are four two-lane vehicular roadways, with two rapid transit tracks in between. Pedestrians and bicyclists can also cross the East River via the Williamsburg Bridge.