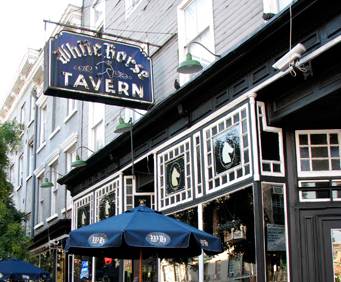 White Horse Tavern in New York City, NY
567 Hudson St New York, NY 10014
Recognized for its 1950s and 60s Bohemian culture, the White Horse Tavern is one of the few major gathering-places for writers in artists in
Greenwich Village
that still remains open. In 1880, when the bar opened, it was a longshoremen's bar. Then, Dylan Thomas and many other writers began to frequent the bar in the early 50s. Because of its literary fame, the bar has become a popular tourist destination.
Perhaps the most famous for being the location of Dylan Thomas' bar, many other notable patrons have visited the White Horse. These include The Clancy Brothers, Bob Dylan, Jim Morrison, Norman Mailer, James Baldwin, Hunter S. Thompson and Seymour Krim, among many others. In Gene Raskin's song, Those Were the Days, the White Horse is mentioned as the tavern in the line "Once upon a time there was a tavern."
Jack Kerouac was another famous frequenter. Kerouac was bounced from the bar on numerous occasions. Someone had even scrawled into the bathroom wall: "JACK GO HOME!"
The White Horse was also the gathering place for labor members and organizers and socialists. It was the hang out of the Catholic Workers, and was where the idea for the Village Voice was discussed.