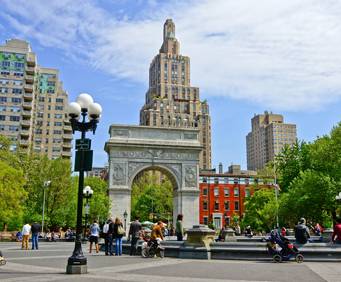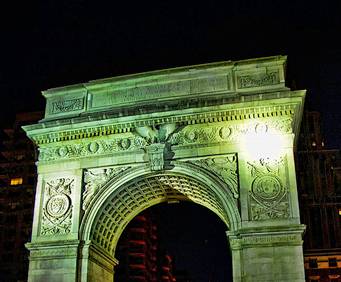 Washington Square Park in New York City, NY
Though the land was once just a marsh, Washington Square Park has become an attraction for both tourists and locals throughout the years.
The park was named after George Washington and became a public park in 1827. The land was located nearby an Indian village, Sapokanikan, or 'Tobacco Fild.' The Common Council acquired the land in 1797 and used it as a common burial ground. The field was also used for public executions, which has given rise to the tale of the Hangman's Elm in the northwest corner of the park. In 1826, the park was used as the Washington Military Parade Ground.
The park hosts monuments such as the marble Washington Arch, two statues of Washington, a bust of steel of manufacturer Alexander Lyman Holley, a statue of Italian nationalist leader Giuseppe Garibaldi, a WWI flagpole and the central fountain.
Public space has been used for bocce games, playgrounds and a meeting ground for students, residents, tourists, chess players and performers. It is also a gathering spot for artists, as well as a place to take your dog.
The following tours visit Washington Square Park:
The following tours go by Washington Square Park:
The New York See It All Tour is exactly what it sounds like: an all-encompassing guided tour of New York City.





Events at Washington Square Park