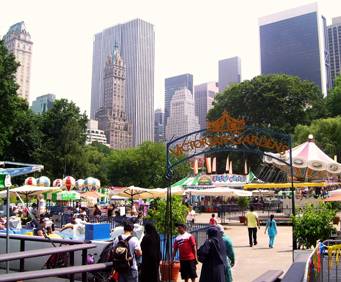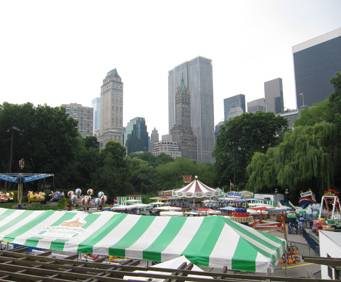 Victorian Gardens in Central Park in New York City, NY
Victorian Gardens is one of few amusement parks within the New York metropolitan area. This small but well-designed park opened in 2003. It occupies the Wollman ice skating rink every summer in
Central Park
.
The park hosts 12 rides. Among them are:
The Aeromax, where kids and adults fly in pint-sized airplanes
The Kite Flyer, which imitates hang gliding
The Convoy, which is an auto-style train ride
The Red Baron, where riders pilot imitation antique airplanes
Mini Mouse, a roller coaster for young kids (parents welcome)
The Jump Around, a bouncy ride especially appealing to children
Samba Balloon, where children pilot their own hot air balloons
Of particular interest to teenagers and adults are:
The Fun Slide, a three-story-tall slide
Family Swinger, a classic swing ride
Rocking' Tug, a traditional carnival swinging boat ride
The Hydro Racer, a fast-paced water ride
Classic carnival games at Victorian Gardens include Whac A Mole, in which players can compete to hit the most moles with their mallets, and Rising Water, a water gun game.
One of the unique and special things about Victorian Gardens is that even though it is a small park and the rides are compact, all of the attractions accommodate both adults and children. However, the majority of the rides are designed for children between the ages of 2 and 12. The amusement park is a controlled environment and is designed to allow parents to relax while they monitor their children.