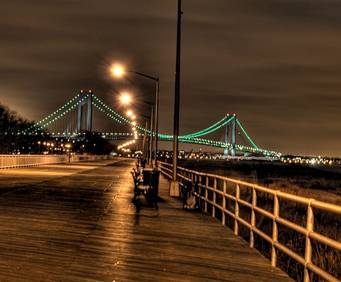 Verrazano-Narrows Bridge in New York City, NY
The Verrazano-Narrows Bridge was opened in 1964 and, at the time, was the world's largest suspension span.
The ends of the bridge touch historic Fort Hamilton in Brooklyn and Fort Wadsworth in Staten Island. Both of these forts guarded the New York Harbor at the Narrows for more than a century. It was named after the first European explorer who ever set sail into New York Harbor, Giovanni da Verrazano.
The bridge's towers stand 693 feet tall and weigh 27,000 tons each. They are held together with three million rivets and one million bolts.
The Verrazano-Narrows also links the interstate highway system, providing the shortest route between middle Atlantic states and Long Island. On the Brooklyn side of the bridge, it connects to the Belt Parkway and the Brooklyn-Queens Expressway, as well as Bay Ridge residential community. On the Staten Island side, it connects with the Staten Island Expressway for easy access to rural areas.
The following tours go by Verrazano-Narrows Bridge:
The New York See It All Tour is exactly what it sounds like: an all-encompassing guided tour of New York City.





Events at Verrazano-Narrows Bridge