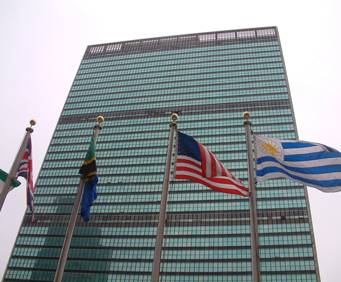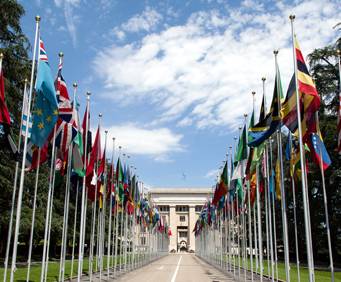 United Nations Headquarters in New York City, NY
The United Nations Headquarters is used to facilitate diplomatic activities.
Construction for the complex was completed in 1952 on the 17 acres of land William Zeckendorf, NY's foremost real estate developer at the time, by the East River. It was designed by Wallace Harrison.
There were many other options for where the building would be located, including San Francisco, Chicago, Boston, Flushing Meadows-Corona Park in Queens, Rhode Island and the Black Hills of South Dakota. When John D. Rockefeller, Jr. donated $8.5 million to purchase the land of the site, it was decided that the building would be constructed in Manhattan.
There is a number of major buildings inside the United Nations complex, including the Secretariat, the General Assembly, the Dag Hammarskjöld Library and the Conference and Visitors Center.
Artwork around the complex includes the 'knotted gun' sculpture, Non-Violence; the 'Let Us Beat Swords Into Plowshares' sculpture, gifted by the Soviet Union; a piece of the Berlin Wall in the garden; the Japanese Peace Bell, which is made out of coins that were donated by children; a stained glass window that remembers the death of Dag Hammarskjöld; and a tapestry copy of Guernica by Pablo Picasso, among many other artworks.
The building has been seen in movies including North by Northwest, The Art of War, Batman: The Movie, Voyage to the Bottom of the Sea, Thirteen Days and Disney's The Rescuers. The film The Interpreter is the only movie that was actually shot on location.
The following tours visit United Nations Headquarters:
4/23/2019 - 3/31/2020
Experiencing the thrills of New York City first-hand has never been as easy or exciting as with this 48-hour pass to enjoy over 50 stops throughout the Big Apple from the luxury of a Double Decker Bus.
The following tours go by United Nations Headquarters: