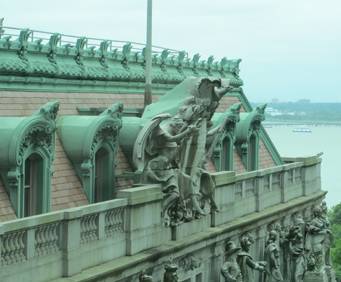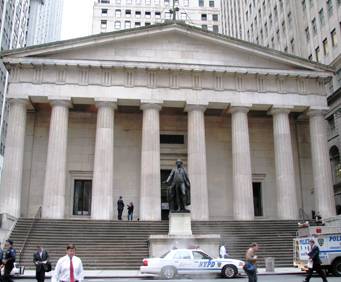 U.S. Custom House in New York City, NY
1 Bowling Green New York, NY 10004
On historic Bowling Green, the area around which New York was founded, sits the U.S. Custom House.
The building was built in 1790, replacing a fort built by Dutch settlers years before. The elegant brick building was known as the Government House. It was intended as a home for the President, but was never used for such a means. When the capital was moved to Philadelphia, the building became the residence of two NY governors, Clinton and Jay. From 1799 until 1815, it served as the Custom House.
It was torn down in 1815 and replaced with elegant homes to house the upper middle class of the city. By the middle of the century, however, the neighborhoods were converted into offices as their occupants moved uptown. The property was then acquired by the federal government, who struck up a competition for a new U.S. Custom House in New York for the site. Cass Gilbert, an architect from St. Paul, Minnesota who also designed the Woolworth Building, won.
The Custom House was vacant for nearly all of the 1970s. In 1987, the United States Bankruptcy Court for the Southern District of New York resided in the building. In 1994, the George Gustav Heye Center, National Museum of the American Indian, Smithsonian Institution made a home out of the first and second floors of the building.
Before, this building was used as a palace for commerce. Gilbert left a legacy of public art. Today, the Custom House stands as a reminder of the way architecture responds in an inspired way to the urban environment.
The following tours visit U.S. Custom House:
The New York See It All Tour is exactly what it sounds like: an all-encompassing guided tour of New York City.