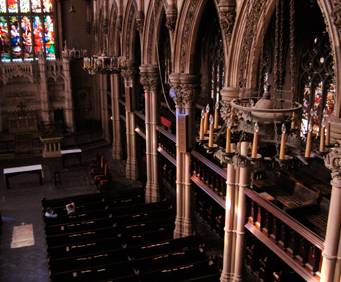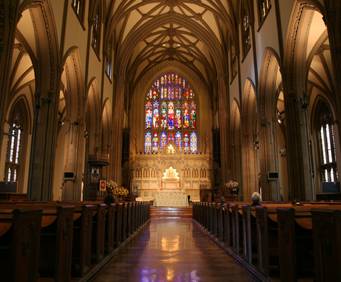 Trinity Church in New York City, NY
74 Trinity Pl New York, NY 10006
Trinity Church held its first service in 1698, and the congregation has been growing strong ever since.
The church and landmark is located in lower Manhattan at the intersection of Wall Street and Broadway. It is on the US National Register of Historic Places and is both a NYC Landmark and a US National Historic Landmark. It was rebuilt in the Gothic Revival style in 1846 after the first church was burned down and the second church was destroyed in reconstruction by a severe snowstorm. The third and current church was finally completed in 1846 and was, at that time, the highest point in New York with its 281-foot spire and cross. It was surpassed in 1890 by the New York World Building.
There are also three burial grounds that are closely associated with the church: the Trinity Churchyard at Wall Street and Broadway, the Trinity Church Cemetery and Mausoleum on Riverside Drive and the Churchyard of St. Paul's Chapel. St. Paul's Chapel is the oldest surviving church building in Manhattan.
Visitors can tour the church, attend morning or evening prayers and services and explore the museum. There are a number of special exhibits and exhibitions at the museum each year, including those such as "A Church for the New World: The History of Trinity Church and St. Paul's Chapel in New York."
The following tours visit Trinity Church NYC:
The New York See It All Tour is exactly what it sounds like: an all-encompassing guided tour of New York City.