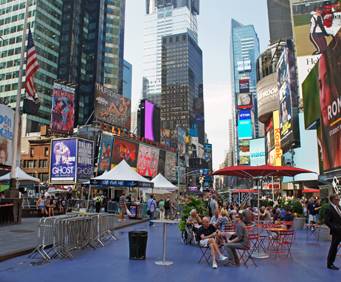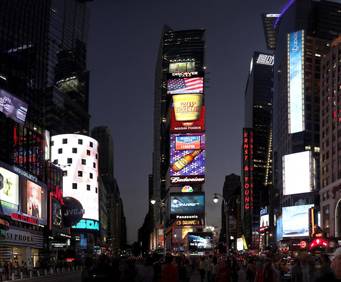 Times Square in New York City, NY
234 West 42nd Street New York , NY 10036





(
5.0
)
Based on

5

reviews ↓
If you're looking for where the action is in New York City, then you're looking for Times Square.
Whether it was on MTV, at the movies, or during New Year's Eve, you've probably seen Times Square on TV or in the films. Now is your chance to experience it. From sightseeing and shopping to elegant dining and live shows, there's sure to be something to get everyone excited about visiting this cherished part of the New York City landscape.
Countless dining options ranging from national chains to one-of-a-kind eateries can be found, many Off Broadway shows are held in Times Square, and an unlimited range of sightseeing options will greet you every step of the way. Next time you take a trip to New York City definitely make a point to stop by Times Square to see what the heart of New York City has to offer.
The following tours visit Times Square:
4/24/2019 - 3/31/2020
Experiencing the thrills of New York City first-hand has never been as easy or exciting as with this 48-hour pass to enjoy over 50 stops throughout the Big Apple from the luxury of a Double Decker Bus.
The New York See It All Tour is exactly what it sounds like: an all-encompassing guided tour of New York City.





The following tours go by Times Square:
4/26/2019 - 10/8/2019
10/10/2019 - 12/30/2019
1/1/2020 - 3/31/2020

Exploring New York has never been as easy as it is with the Manhattan Experience Tour!
Be a part of all that New York City has to offer when you take the New York, New York Sightseeing Tour which includes top highlights of the Big Apple.