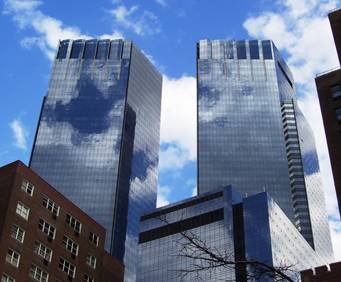 Time Warner Center in New York City, NY
10 Columbus Cir New York, NY 10019
Time Warner Center is a twin-tower building developed by AREA Property Partners and The Related Companies in New York City.
Its design, by David Childs and Mustafa Kemal Abadan of Skidmore, Owings & Merrill,[4] consists of two 750 ft twin towers bridged by a multi-story atrium containing upscale retail shops. Construction began in November 2000, following the demolition of the New York Coliseum, and a topping-out ceremony was held on February 27, 2003.
Originally constructed as the AOL Time Warner Center, the building encircles the western side of Columbus Circle and straddles the border between Midtown and the Upper West Side. The total floor area of 2.8 million ft² is divided between offices, residential condominiums, and the Mandarin Oriental, New York hotel. The Shops at Columbus Circle is an upscale shopping mall located in a curving arcade at the base of the building, with a large Whole Foods Market grocery store in the basement.