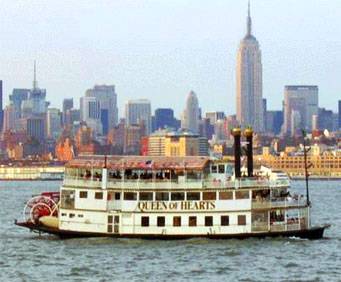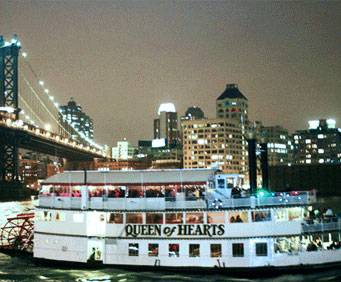 The Queen of Hearts Floating Nightclub in New York City, NY
40 N River Road , Pier 40





(
5.0
)
Based on

5

reviews ↓
You may have thought that you've seen everything there is to see for entertainment and fun, but until you've been on the Queen of Hearts Floating Nightclub in New York, NY, you haven't seen anything.
This 'floating nightclub' will allow you to combine a great day or night out along with a cruise for the time of your life.
The Queen of Hearts Floating Nightclub is a very popular venue for many big events and holiday get together. One of their very exciting party/cruises that they offer is the New Years Eve Party. It starts with an open bar from 9 p.m. to midnight with a Champagne Toast at midnight. You'll cruise down the Hudson River sipping your drinks and munching on their scrumptious hors d'oeuvres until you get to the Statue of Liberty, at which time you'll see some of the most beautiful fireworks you've ever seen. You'll listen to Old School Hip Hop, House, and Top 40 Dance Hits all compliments of their two live DJs. However, don't think it's over when the ball drops. After 1 a.m., you'll be served a delicious continental breakfast dockside. You'll be talking about this New Year's Eve for years to come.
Don't feel bad about leaving your kids at home when you spend New Year's Eve on the Queen of Hearts Floating Nightclub because they'll have their day on the Kiddie Cruise they offer in the middle of December. Your kids will love cruising the Hudson while they get entertained with a magic show, live holiday music, an arts and crafts show and a visit from Santa Claus. They'll see some of their favorite characters like SpongeBob, Dora, Winnie the Pooh, Elmo and the Cookie Monster. They'll be toasty warm because the boat is not only enclosed, but climate controlled. Don't let your little ones miss the fun they'll have on this Winter Family Cruise.
There are many fascinating cruises the Queen of Hearts offers such as the Brazilian Holiday cruise, Copacabana Holiday Cruise and Tropicana Holiday Cruise. On Saturdays, you'll have the time of your life when you check out their 'Sexy Saturdays'.