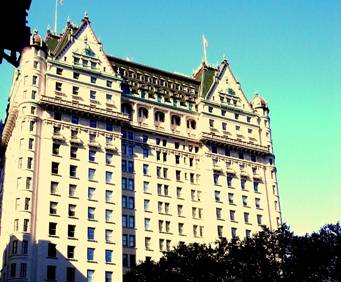 The Plaza Hotel in New York City, NY
768 5th Ave New York, NY 10019
'Nothing unimportant ever happens at The Plaza,' and this is why it has become such a significant and attracting place for tourists to visit throughout the years.
Hemingway once told Fitzgerald to give his liver to Princeton and his heart to the Plaza. It has been featured in films like Plaza Suite, The Way We Were, The Great Gatsby, Funny Girl, Home Alone II: Lost in New-York and Crocodile Dundee I and II. It was also used in Alfred Hitchcock's North by Northwest, the first film to assemble on site to make a motion picture, in 1959.
The Plaza Hotel opened in 1907 and has been called the greatest hotel in the world by many different reports. It is located at Fifth Avenue and Central Park South, giving guests easy access to many of the top attractions and landmarks in the area. It also stands in the most fashionable residential section of the city.
Bernhard Beinecke financed the project, Fred Sterry managed it and Harry S. Black constructed it. They replaced a 15-year-old hotel with the same name and on the same site with this 19-story, elegant building. It took two years to build and cost $12 million. The hotel is a New York City Landmark and on the Register of Historic Places. It is also the only NYC hotel that has been designated a National Historic Landmark.
The following tours go by Plaza Hotel NYC:
The New York See It All Tour is exactly what it sounds like: an all-encompassing guided tour of New York City.