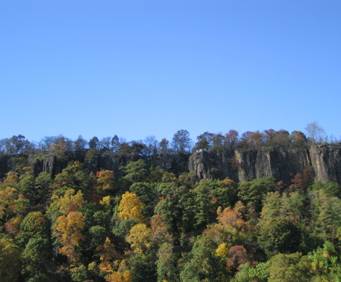 The Palisades in New York City, NY
The Palisades stand up to 550 feet above the
Hudson River
.
The cliffs stretch across nearly 20 miles along the river, to nearby Nyack, New York. The cliffs are a National Natural Landmark and are one of the most dramatic geologic features in all of New York City. They form a canyon in the Hudson, just north of George Washington Bridge, and provide remarkable, breathtaking sights of the skyline.
The cliffs were described as 'rocks that look like rows of trees' by the Lenape Indians, which translates to 'Weehawken.' Weehawken is the now the name of the town across from Manhattan that sits at the top of the cliffs. The word 'palisade' derives from the same root word the word 'pale' does, palus, or 'stake.'
The Palisades formed around 200 million years ago, at the end of the Triassic Period. The first map of the New World features the landmark. By the 1910s, the cliffs were used commonly as film locations, as in The Perils of Pauline. The cliffs were designated a National Natural Landmark in 1983. The land is a popular outdoor activity location.