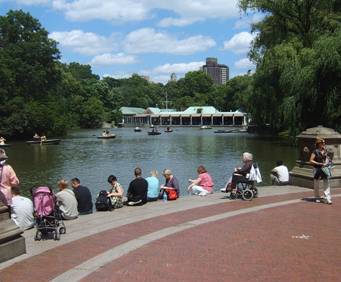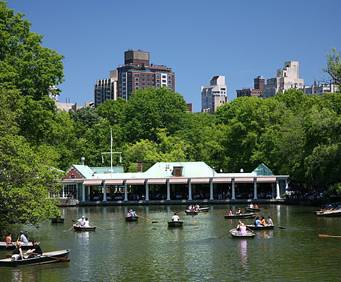 The Boathouse in Central Park in New York City, NY
East 72nd Street and 5th Avenue New York, NY 10021
The Loeb Boathouse in
Central Park
stands at the northeastern tip of the lake and is home to the famous Boathouse Restaurant.
The restaurant overlooks the lake for a beautiful backdrop for a romantic dinner or afternoon lunch. The Boathouse boasts a beautiful deck, where patrons can sit and enjoy their meal while rowboats and gondolas drift by. Swans and ducks are frequent visitors to the deck as well. The seasonal outdoor terrace gives remarkable views of Bethesda Terrace.
The Boathouse was first designed in 1874 by Central Park co-designer Calvert Vaux. He was aiming to create a place where visitors could purchase refreshments, take boat rides and watch other boats float past. The original wooden Victorian structure, with a sloping mansard roof, burned down, but the Loeb Boathouse sprung up in its place in the 1950s.
Enjoy a delicious meal, pick up some snacks, rent a bicycle or a rowboat, take a ride in an authentic gondola, host your wedding, conference or any private event and more all at the Boathouse.